Join Tasnim Razzak as she takes us on a virtual tour around the scenic and fascinating sites in Asia.
1. Tokyo, Japan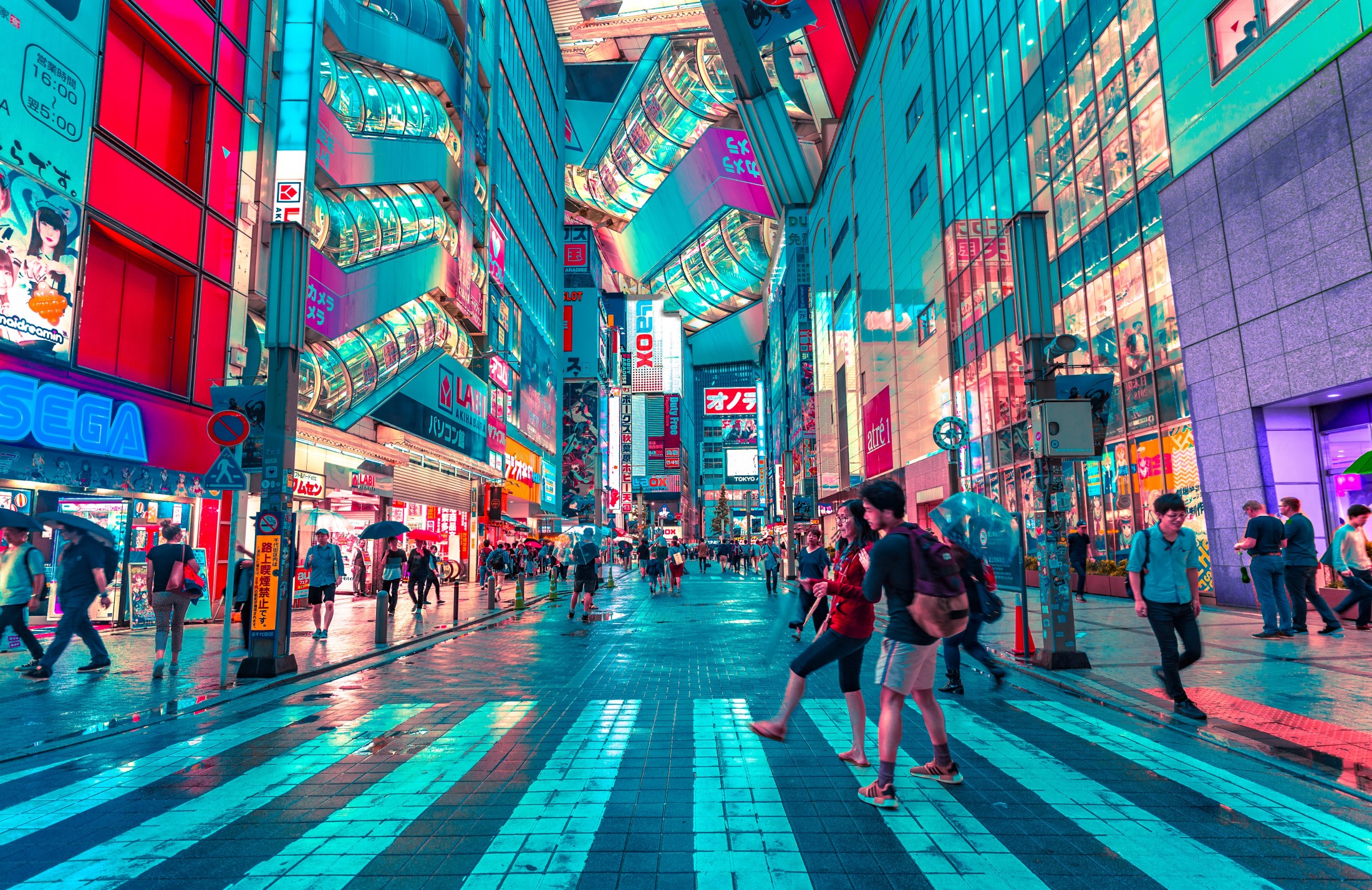 The capital of Japan, Tokyo didn't just magically get their reputation as the world's most popular metropolis city. The futuristic city offers so much insight into the future of the world – I'd say it's ahead of our time – I assure you it's a must on the list of travel destinations! Want to see what out of the world technological advances there are? Head over to Akihabara to stroll through the various stores on the block which carries everything from toys to the latest devices!
This particular city does have its reputation as being more suitable for those who enjoy shopping so grab your wallet to get a taste of the newest fashion trends and more! Speaking of Japanese fashion, you might be tempted to purchase something which is associated with Harajuku fashion! Of course with all the shopping you'll do you're bound to get hungry! There is fine dining everywhere so you'll be able to munch on crisp croquettes and sweets like mochi as well as fine sushi without hurting your wallet! The only thing you have to do now is to book that flight!
2. Jaipur, India
India, one of the most popular countries in all of Asia, is a must-go-to place! From birthing the unique film industry of Bollywood to sporting diverse aspects of the country's diverse culture, there is so much to learn and see from India. Jaipur, The Pink City, is one of the more popular cities in India. Its breathtaking architecture can be viewed all over from places like the Hawa Mahal, a palace made of red and pink sandstone and the City Palace, a landmark of the city that was built for the man who founded the very city of Jaipur, Maharaja Sawai Jai Singh.
Learning all about the culture of India as well as exploring the vast city would obviously make one tired which is why the city is filled with luxurious hotels like the Rambagh Palace and Jai Mahal Palace (I don't know about you but staying at a palace for a fortnight would be the dream!) Let's not forget the wonderful cuisine that India has to share as well! The flavour of every dish can be felt throughout whether it be from a plate of biryani or on a pakora – all of which can be bought from street vendors all around! Now that you've read all about Jaipur, India, it's time for you to pack your bags and actually experience it all!
3. Bishkek, Kyrgyzstan
Have you ever heard of this adventurous country filled with 7,000m of mountains as well as vivid green grassland! Well, if not, I introduce you to one of the best countries located in Central Asia! For those who love country life and have a knack for adventure, exploring this country will be a treat! Traveling to Kyrgyzstan is fairly easy and cheap so you won't be overwhelmed at trying to fit all activities in a couple of days!
Kyrgyzstan homes many nomads so you can experience what it is like to live like one! The city of Bishkek is fairly modernized so you can take a break from staying in a yurt. The country has the most gorgeous mountains which are perfect for trekking so clear some time in your day to trek in the Tien Shan range – it will NOT disappoint!
Love horses? Good news for you then! Kyrgyzstan is also known to be the land of horses so you can get the opportunity to trek over a mountain pass on the back of a horse! I have to warn you though if you do choose to go to Kyrgyzstan, don't be surprised if you don't want to leave!
4. Bangkok, Thailand
Known for its exquisite cuisine, Buddhist temples, and beaches, Bangkok, Thailand will definitely prove to be a treat to you with its fascinating history and culture! This famous city will win you over with its picturesque 1,500 miles of just coastline! Maybe you've even heard of some of their beaches, like Jomtien Beach in Pattaya, which are the main attraction for tourists! Even if you wanted to use your vacation time just relaxing and having a quiet time, you could always sunbathe on the white sands of beaches like Freedom Beach in Phuket. However, there is much more to Thailand than just its beaches. About 95% of its population are Buddhist.
Thus, the immense amount of temples – being about 40,000 – is not surprising. Chiang Mai is a great place for learning and understanding more about their religion and history as well as Buddhism has a great significance there. To get an even better understanding of the lifestyle of Thais, visit the various marketplaces around the city! A very popular marketplace, The Damnoen Saduak Floating Market, is mainstream to tourists and offers a very authentic perspective to Thailand's culture and food!
Another way to an authentic perspective of Thailand's culture is to partake in the annual festivals held frequently around the country! Depending on what time of the year you visit Thailand, you'll have the opportunity to participate in these fun and symbolic activities like The Light Festival! Your vacation days are piling up and it's about time you put them to use so pack your bags because Thailand is waiting for you!
Read about 'An Exciting Account of Travelling in Thailand' to get you even more excited for Thailand.
5. Singapore, Singapore
Singapore, also famously known as the Garden City, is absolutely stunning. The city itself gives people the feeling of being in an actual garden because of the mass plants everywhere! Gardens by the Bay, Cloud Forest, and the Singapore Botanic Gardens where you will be able to see over 60,000 varieties of plants and animals make it a MUST when visiting Singapore! The architecture of the buildings and sites there makes it feel as though you're in a stimulation but I assure you it's all real!
Speaking of architecture, the Marina Bay Sands, which cost $5.7 billion to make is the perfect place for you to stroll in and out of shops, go indoor ice skating, watch a movie, learn at the ArtScience Museum, and relax at the most luxurious hotels! However, there is another popular attraction you HAVE to visit – Clarke Quay. In this part of Singapore, you'll find the coolest nightclubs, boutiques that sell products from all over the world, and street vendors who can make you food on the spot!
Now if you're looking for more fun in a conventional way, I suggest you go to the Resorts World Sentosa – perfect for people of all ages! Universal Studios Singapore, Marine Life Park, and Dolphin Island being some of the biggest attractions located on this island make it a never-ending cycle of fun all around! So what are you waiting for?! It's about time you took a break and just relaxed!
Check out other Articles in this Series:
Speaking of architecture, the Marina Bay Sands, which cost $5.7 billion to make is the perfect place for you to stroll in and out of shops, go indoor ice skating, watch a movie, learn at the ArtScience Museum, and relax at the most luxurious hotels! However, there is another popular attraction you HAVE to visit – Clarke Quay. In this part of Singapore, you'll find the coolest nightclubs, boutiques that sell products from all over the world, and street vendors who can make you food on the spot! asia
Speaking of architecture, the Marina Bay Sands, which cost $5.7 billion to make is the perfect place for you to stroll in and out of shops, go indoor ice skating, watch a movie, learn at the ArtScience Museum, and relax at the most luxurious hotels! However, there is another popular attraction you HAVE to visit – Clarke Quay. In this part of Singapore, you'll find the coolest nightclubs, boutiques that sell products from all over the world, and street vendors who can make you food on the spot! asia
Speaking of architecture, the Marina Bay Sands, which cost $5.7 billion to make is the perfect place for you to stroll in and out of shops, go indoor ice skating, watch a movie, learn at the ArtScience Museum, and relax at the most luxurious hotels! However, there is another popular attraction you HAVE to visit – Clarke Quay. In this part of Singapore, you'll find the coolest nightclubs, boutiques that sell products from all over the world, and street vendors who can make you food on the spot! asia
Speaking of architecture, the Marina Bay Sands, which cost $5.7 billion to make is the perfect place for you to stroll in and out of shops, go indoor ice skating, watch a movie, learn at the ArtScience Museum, and relax at the most luxurious hotels! However, there is another popular attraction you HAVE to visit – Clarke Quay. In this part of Singapore, you'll find the coolest nightclubs, boutiques that sell products from all over the world, and street vendors who can make you food on the spot! asia
Speaking of architecture, the Marina Bay Sands, which cost $5.7 billion to make is the perfect place for you to stroll in and out of shops, go indoor ice skating, watch a movie, learn at the ArtScience Museum, and relax at the most luxurious hotels! However, there is another popular attraction you HAVE to visit – Clarke Quay. In this part of Singapore, you'll find the coolest nightclubs, boutiques that sell products from all over the world, and street vendors who can make you food on the spot! asia
Speaking of architecture, the Marina Bay Sands, which cost $5.7 billion to make is the perfect place for you to stroll in and out of shops, go indoor ice skating, watch a movie, learn at the ArtScience Museum, and relax at the most luxurious hotels! However, there is another popular attraction you HAVE to visit – Clarke Quay. In this part of Singapore, you'll find the coolest nightclubs, boutiques that sell products from all over the world, and street vendors who can make you food on the spot! asia
Speaking of architecture, the Marina Bay Sands, which cost $5.7 billion to make is the perfect place for you to stroll in and out of shops, go indoor ice skating, watch a movie, learn at the ArtScience Museum, and relax at the most luxurious hotels! However, there is another popular attraction you HAVE to visit – Clarke Quay. In this part of Singapore, you'll find the coolest nightclubs, boutiques that sell products from all over the world, and street vendors who can make you food on the spot! asia
Speaking of architecture, the Marina Bay Sands, which cost $5.7 billion to make is the perfect place for you to stroll in and out of shops, go indoor ice skating, watch a movie, learn at the ArtScience Museum, and relax at the most luxurious hotels! However, there is another popular attraction you HAVE to visit – Clarke Quay. In this part of Singapore, you'll find the coolest nightclubs, boutiques that sell products from all over the world, and street vendors who can make you food on the spot! asia
Speaking of architecture, the Marina Bay Sands, which cost $5.7 billion to make is the perfect place for you to stroll in and out of shops, go indoor ice skating, watch a movie, learn at the ArtScience Museum, and relax at the most luxurious hotels! However, there is another popular attraction you HAVE to visit – Clarke Quay. In this part of Singapore, you'll find the coolest nightclubs, boutiques that sell products from all over the world, and street vendors who can make you food on the spot! asia
Speaking of architecture, the Marina Bay Sands, which cost $5.7 billion to make is the perfect place for you to stroll in and out of shops, go indoor ice skating, watch a movie, learn at the ArtScience Museum, and relax at the most luxurious hotels! However, there is another popular attraction you HAVE to visit – Clarke Quay. In this part of Singapore, you'll find the coolest nightclubs, boutiques that sell products from all over the world, and street vendors who can make you food on the spot! asia
Speaking of architecture, the Marina Bay Sands, which cost $5.7 billion to make is the perfect place for you to stroll in and out of shops, go indoor ice skating, watch a movie, learn at the ArtScience Museum, and relax at the most luxurious hotels! However, there is another popular attraction you HAVE to visit – Clarke Quay. In this part of Singapore, you'll find the coolest nightclubs, boutiques that sell products from all over the world, and street vendors who can make you food on the spot! asia
Speaking of architecture, the Marina Bay Sands, which cost $5.7 billion to make is the perfect place for you to stroll in and out of shops, go indoor ice skating, watch a movie, learn at the ArtScience Museum, and relax at the most luxurious hotels! However, there is another popular attraction you HAVE to visit – Clarke Quay. In this part of Singapore, you'll find the coolest nightclubs, boutiques that sell products from all over the world, and street vendors who can make you food on the spot! asia
Speaking of architecture, the Marina Bay Sands, which cost $5.7 billion to make is the perfect place for you to stroll in and out of shops, go indoor ice skating, watch a movie, learn at the ArtScience Museum, and relax at the most luxurious hotels! However, there is another popular attraction you HAVE to visit – Clarke Quay. In this part of Singapore, you'll find the coolest nightclubs, boutiques that sell products from all over the world, and street vendors who can make you food on the spot! asia
Speaking of architecture, the Marina Bay Sands, which cost $5.7 billion to make is the perfect place for you to stroll in and out of shops, go indoor ice skating, watch a movie, learn at the ArtScience Museum, and relax at the most luxurious hotels! However, there is another popular attraction you HAVE to visit – Clarke Quay. In this part of Singapore, you'll find the coolest nightclubs, boutiques that sell products from all over the world, and street vendors who can make you food on the spot! asia
Speaking of architecture, the Marina Bay Sands, which cost $5.7 billion to make is the perfect place for you to stroll in and out of shops, go indoor ice skating, watch a movie, learn at the ArtScience Museum, and relax at the most luxurious hotels! However, there is another popular attraction you HAVE to visit – Clarke Quay. In this part of Singapore, you'll find the coolest nightclubs, boutiques that sell products from all over the world, and street vendors who can make you food on the spot! asia asia sia sasia asia asia asia asiaasia asia