The third part in a skill self-improvement series. Discover new ways and tips to try out to improve productivity, laptop speed and save time.
Computers over time can get slower and slower the more you use it, and using a slow laptop can get very frustrating when you are trying to get things done. Here are some tips you can try to out to increase the lifespan.
1. Deleting Unwanted Programs
Whether it's bloatware or applications you installed and never used again, clearing out unwanted programs will help boost the performance of your computer. SSDs tend to get slower as they fill up and it is recommended to avoid filling an SSD up to 75% capacity.[1] You can delete programs either by heading over to the 'Programs and Features' page in the Control Panel or by right-clicking the Windows logo and clicking on 'Apps and Features'. Try to have regular cleanups, deleting files you may not need anymore or that have been backed up into the drive, as well as cleaning up the recycle bin.
2. Limit Programs on Startup
Most programs you install will startup every time you start Windows. Some you might want starting up with Windows which you may deem useful, others not so much.
Launch Task Manager by either hitting Ctrl-Shift-Esc or right-clicking the taskbar and selecting Task Manager. When the window pops up, head over to the Startup Tab, where you will able to see all the applications that run on startup and the impact they have. Then you can choose which programs you want running and which ones you don't.
3. Adjust for Best Performance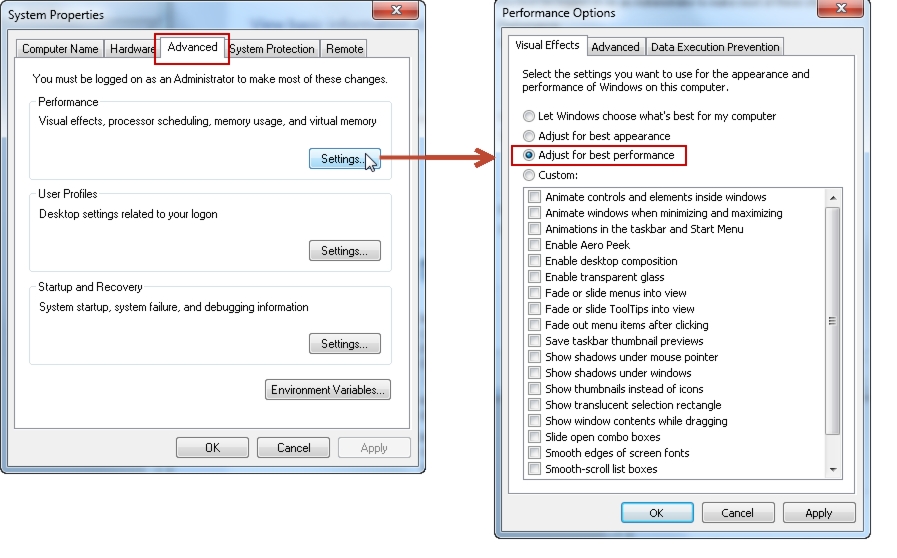 Windows 10 comes with a lot of graphics and animations that aim to give a refined user experience, however, it can also cause a loss in performance. Simply search 'adjust appearance' in the Start menu. When the window opens, you can either choose the option 'Adjust for best performance' or choose which options you don't need.
4. Check for Malware
This is not as common but is definitely a possibility, is that your laptop is being slowed down by malware. [1] While some malware damages your laptop, some slow down your laptop, hindering its performance. There are many antiviruses, paid and free, that can get the job done. Here are some best antivirus picks.
5. Laptop Hardware Upgrades
Sometimes the key difference can be upgrading your hardware, not just adjusting your OS. Even though Windows 10 is able to efficiently manage memory, adding more memory can be a major difference in performance. If your laptop offers it, adding an extra RAM card will significantly boost performance.
Besides RAM, swapping your HDD for an SSD will also significantly speed up your system; from faster startup times to speeding up demanding up tasks, SSDs are a no-brainer for faster laptop performance. You can find a list of SSDs to buy here.
Other Articles in This Series:
References:
Resources for the Author:
Whether it's bloatware or applications you installed and never used again, clearing out unwanted programs will help boost the performance of your computer. SSDs tend to get slower as they fill up and it is recommended to avoid filling an SSD up to 75% capacity.[1] You can delete programs either by heading over to the 'Programs and Features' page in the Control Panel or by right-clicking the Windows logo and clicking on 'Apps and Features'. Try to have regular cleanups, deleting files you may not need anymore or that have been backed up into the drive, as well as cleaning up the recycle bin. Laptop
Whether it's bloatware or applications you installed and never used again, clearing out unwanted programs will help boost the performance of your computer. SSDs tend to get slower as they fill up and it is recommended to avoid filling an SSD up to 75% capacity.[1] You can delete programs either by heading over to the 'Programs and Features' page in the Control Panel or by right-clicking the Windows logo and clicking on 'Apps and Features'. Try to have regular cleanups, deleting files you may not need anymore or that have been backed up into the drive, as well as cleaning up the recycle bin. Laptop
Whether it's bloatware or applications you installed and never used again, clearing out unwanted programs will help boost the performance of your computer. SSDs tend to get slower as they fill up and it is recommended to avoid filling an SSD up to 75% capacity.[1] You can delete programs either by heading over to the 'Programs and Features' page in the Control Panel or by right-clicking the Windows logo and clicking on 'Apps and Features'. Try to have regular cleanups, deleting files you may not need anymore or that have been backed up into the drive, as well as cleaning up the recycle bin. Laptop
Whether it's bloatware or applications you installed and never used again, clearing out unwanted programs will help boost the performance of your computer. SSDs tend to get slower as they fill up and it is recommended to avoid filling an SSD up to 75% capacity.[1] You can delete programs either by heading over to the 'Programs and Features' page in the Control Panel or by right-clicking the Windows logo and clicking on 'Apps and Features'. Try to have regular cleanups, deleting files you may not need anymore or that have been backed up into the drive, as well as cleaning up the recycle bin. Laptop
Whether it's bloatware or applications you installed and never used again, clearing out unwanted programs will help boost the performance of your computer. SSDs tend to get slower as they fill up and it is recommended to avoid filling an SSD up to 75% capacity.[1] You can delete programs either by heading over to the 'Programs and Features' page in the Control Panel or by right-clicking the Windows logo and clicking on 'Apps and Features'. Try to have regular cleanups, deleting files you may not need anymore or that have been backed up into the drive, as well as cleaning up the recycle bin. Laptop
Whether it's bloatware or applications you installed and never used again, clearing out unwanted programs will help boost the performance of your computer. SSDs tend to get slower as they fill up and it is recommended to avoid filling an SSD up to 75% capacity.[1] You can delete programs either by heading over to the 'Programs and Features' page in the Control Panel or by right-clicking the Windows logo and clicking on 'Apps and Features'. Try to have regular cleanups, deleting files you may not need anymore or that have been backed up into the drive, as well as cleaning up the recycle bin. Laptop
Whether it's bloatware or applications you installed and never used again, clearing out unwanted programs will help boost the performance of your computer. SSDs tend to get slower as they fill up and it is recommended to avoid filling an SSD up to 75% capacity.[1] You can delete programs either by heading over to the 'Programs and Features' page in the Control Panel or by right-clicking the Windows logo and clicking on 'Apps and Features'. Try to have regular cleanups, deleting files you may not need anymore or that have been backed up into the drive, as well as cleaning up the recycle bin. Laptop
Whether it's bloatware or applications you installed and never used again, clearing out unwanted programs will help boost the performance of your computer. SSDs tend to get slower as they fill up and it is recommended to avoid filling an SSD up to 75% capacity.[1] You can delete programs either by heading over to the 'Programs and Features' page in the Control Panel or by right-clicking the Windows logo and clicking on 'Apps and Features'. Try to have regular cleanups, deleting files you may not need anymore or that have been backed up into the drive, as well as cleaning up the recycle bin. Laptop
Whether it's bloatware or applications you installed and never used again, clearing out unwanted programs will help boost the performance of your computer. SSDs tend to get slower as they fill up and it is recommended to avoid filling an SSD up to 75% capacity.[1] You can delete programs either by heading over to the 'Programs and Features' page in the Control Panel or by right-clicking the Windows logo and clicking on 'Apps and Features'. Try to have regular cleanups, deleting files you may not need anymore or that have been backed up into the drive, as well as cleaning up the recycle bin. Laptop
Whether it's bloatware or applications you installed and never used again, clearing out unwanted programs will help boost the performance of your computer. SSDs tend to get slower as they fill up and it is recommended to avoid filling an SSD up to 75% capacity.[1] You can delete programs either by heading over to the 'Programs and Features' page in the Control Panel or by right-clicking the Windows logo and clicking on 'Apps and Features'. Try to have regular cleanups, deleting files you may not need anymore or that have been backed up into the drive, as well as cleaning up the recycle bin. Laptop
See Also
Whether it's bloatware or applications you installed and never used again, clearing out unwanted programs will help boost the performance of your computer. SSDs tend to get slower as they fill up and it is recommended to avoid filling an SSD up to 75% capacity.[1] You can delete programs either by heading over to the 'Programs and Features' page in the Control Panel or by right-clicking the Windows logo and clicking on 'Apps and Features'. Try to have regular cleanups, deleting files you may not need anymore or that have been backed up into the drive, as well as cleaning up the recycle bin. Laptop
Whether it's bloatware or applications you installed and never used again, clearing out unwanted programs will help boost the performance of your computer. SSDs tend to get slower as they fill up and it is recommended to avoid filling an SSD up to 75% capacity.[1] You can delete programs either by heading over to the 'Programs and Features' page in the Control Panel or by right-clicking the Windows logo and clicking on 'Apps and Features'. Try to have regular cleanups, deleting files you may not need anymore or that have been backed up into the drive, as well as cleaning up the recycle bin. Laptop
Whether it's bloatware or applications you installed and never used again, clearing out unwanted programs will help boost the performance of your computer. SSDs tend to get slower as they fill up and it is recommended to avoid filling an SSD up to 75% capacity.[1] You can delete programs either by heading over to the 'Programs and Features' page in the Control Panel or by right-clicking the Windows logo and clicking on 'Apps and Features'. Try to have regular cleanups, deleting files you may not need anymore or that have been backed up into the drive, as well as cleaning up the recycle bin. Laptop
Whether it's bloatware or applications you installed and never used again, clearing out unwanted programs will help boost the performance of your computer. SSDs tend to get slower as they fill up and it is recommended to avoid filling an SSD up to 75% capacity.[1] You can delete programs either by heading over to the 'Programs and Features' page in the Control Panel or by right-clicking the Windows logo and clicking on 'Apps and Features'. Try to have regular cleanups, deleting files you may not need anymore or that have been backed up into the drive, as well as cleaning up the recycle bin. Laptop
Whether it's bloatware or applications you installed and never used again, clearing out unwanted programs will help boost the performance of your computer. SSDs tend to get slower as they fill up and it is recommended to avoid filling an SSD up to 75% capacity.[1] You can delete programs either by heading over to the 'Programs and Features' page in the Control Panel or by right-clicking the Windows logo and clicking on 'Apps and Features'. Try to have regular cleanups, deleting files you may not need anymore or that have been backed up into the drive, as well as cleaning up the recycle bin. Laptop
Whether it's bloatware or applications you installed and never used again, clearing out unwanted programs will help boost the performance of your computer. SSDs tend to get slower as they fill up and it is recommended to avoid filling an SSD up to 75% capacity.[1] You can delete programs either by heading over to the 'Programs and Features' page in the Control Panel or by right-clicking the Windows logo and clicking on 'Apps and Features'. Try to have regular cleanups, deleting files you may not need anymore or that have been backed up into the drive, as well as cleaning up the recycle bin. Laptop
Whether it's bloatware or applications you installed and never used again, clearing out unwanted programs will help boost the performance of your computer. SSDs tend to get slower as they fill up and it is recommended to avoid filling an SSD up to 75% capacity.[1] You can delete programs either by heading over to the 'Programs and Features' page in the Control Panel or by right-clicking the Windows logo and clicking on 'Apps and Features'. Try to have regular cleanups, deleting files you may not need anymore or that have been backed up into the drive, as well as cleaning up the recycle bin. Laptop
Whether it's bloatware or applications you installed and never used again, clearing out unwanted programs will help boost the performance of your computer. SSDs tend to get slower as they fill up and it is recommended to avoid filling an SSD up to 75% capacity.[1] You can delete programs either by heading over to the 'Programs and Features' page in the Control Panel or by right-clicking the Windows logo and clicking on 'Apps and Features'. Try to have regular cleanups, deleting files you may not need anymore or that have been backed up into the drive, as well as cleaning up the recycle bin. Laptop
Whether it's bloatware or applications you installed and never used again, clearing out unwanted programs will help boost the performance of your computer. SSDs tend to get slower as they fill up and it is recommended to avoid filling an SSD up to 75% capacity.[1] You can delete programs either by heading over to the 'Programs and Features' page in the Control Panel or by right-clicking the Windows logo and clicking on 'Apps and Features'. Try to have regular cleanups, deleting files you may not need anymore or that have been backed up into the drive, as well as cleaning up the recycle bin. Laptop