What does patriotism truly mean? How does one hate a country, or love one? I know people…I know towns, farms, hills and rivers and rocks, I know how the sun at sunset in autumn falls on the side of a certain plough land in the hills; but what is the sense of giving a boundary to all that, of giving it a name and ceasing to love where the name ceases to apply? What is the love of one's country; is it hate of one's un-country?

Ursula K. Le Guin
What is Patriotism?
Patriotism denotes an arbitrary attachment to one's country, often perpetuated by the upper classes in society for personal gain. However, one must wonder, about the arbitrary nature of where someone is born, one's birthplace is determined by the decision, actions, and beliefs of one's parents and ancestors which has constructed where and what the society you were born into will look like. If a child inhabiting the choices, the hard work and the beliefs of a parent are arbitrary then cause and the consequence is null.
The question of patriotism creating divisions answers itself, the French word 'Patri' means an enclosed space or defined area, when you're drawing a line around an area you're dividing it from something else.
Patriotism can be Negative
Nationalist forces tinged with xenophobia, ethnic prejudice, and religious bigotry are on the rise. The recent Hungarian election featured nakedly anti-Semitic rhetoric, the President of the USA is openly prejudiced. Citizens are being beckoned to reject unifying principles in favour of schismatic and exclusionary particularism.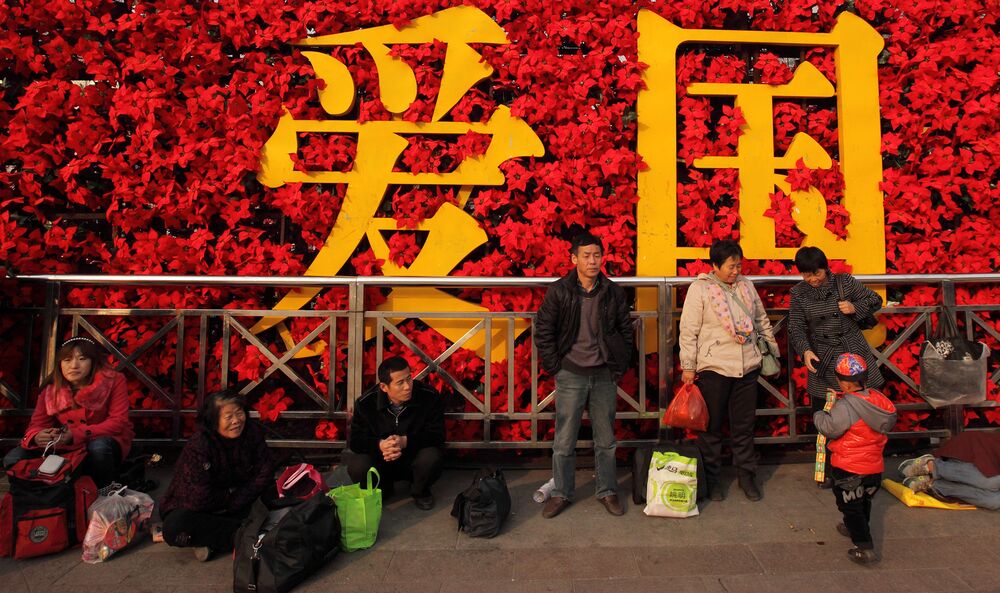 The philosopher Simon Keller's thesis is that patriotic attachment leads patriots to deny unflattering truths about their country's conduct. Patriotism should yield to truth, but it doesn't.
Keller throws light on a perilous trend; It is often hard to acknowledge that one's country has erred, perhaps even committed hideous crimes. Oftentimes evil masquerade as patriotism and manipulates patriotic sentiments to serve its own purposes.
A Political Animal
Aristotle has a famous declaration that man is by nature a "political animal," a statement that can be dissected to mean many things, but one of them is that man is made to live in community with one another. By nature, we are creatures longing to belong, and one of the deepest needs of the human soul is a sense of commonality.
In my personal opinion, as with all utopian concepts in society, there is nothing wrong with patriotism and I do separate it from nationalism, what is flawed is the execution. The former is the concept of affinity to one's nation, culture, and people while the latter is the concept of superior-inferior.
Blind or Honest Affinity?
However, it is my theory that when we humans become invested to a viewpoint, humans have a tendency to become more and more convinced their views are the views of the world and everyone else is just wrong. From this, ideologies and then eventually extremism is born. So should this theory be right, it would stand to reason that blind affinity is not useful, but honest affinity is.
Part of loving oneself, those around you, your country, or indeed the world is to understand that part of improvement rests upon the negative as much as the positive. That the point of criticism is to foster self-improvement, to recognize flaws to be worked on, and that true love of the world is to want to see it grow and improve despite its flaws.
Read more Patriotism articles in The Teen Pop Magazine!
However, it is my theory that when we humans become invested to a viewpoint, humans have a tendency to become more and more convinced their views are the views of the world and everyone else is just wrong. From this, ideologies and then eventually extremism is born. So should this theory be right, it would stand to reason that blind affinity is not useful, but honest affinity is. patriot
However, it is my theory that when we humans become invested to a viewpoint, humans have a tendency to become more and more convinced their views are the views of the world and everyone else is just wrong. From this, ideologies and then eventually extremism is born. So should this theory be right, it would stand to reason that blind affinity is not useful, but honest affinity is. patriot
However, it is my theory that when we humans become invested to a viewpoint, humans have a tendency to become more and more convinced their views are the views of the world and everyone else is just wrong. From this, ideologies and then eventually extremism is born. So should this theory be right, it would stand to reason that blind affinity is not useful, but honest affinity is. patriot
However, it is my theory that when we humans become invested to a viewpoint, humans have a tendency to become more and more convinced their views are the views of the world and everyone else is just wrong. From this, ideologies and then eventually extremism is born. So should this theory be right, it would stand to reason that blind affinity is not useful, but honest affinity is. patriot
However, it is my theory that when we humans become invested to a viewpoint, humans have a tendency to become more and more convinced their views are the views of the world and everyone else is just wrong. From this, ideologies and then eventually extremism is born. So should this theory be right, it would stand to reason that blind affinity is not useful, but honest affinity is. patriot
However, it is my theory that when we humans become invested to a viewpoint, humans have a tendency to become more and more convinced their views are the views of the world and everyone else is just wrong. From this, ideologies and then eventually extremism is born. So should this theory be right, it would stand to reason that blind affinity is not useful, but honest affinity is. patriot
However, it is my theory that when we humans become invested to a viewpoint, humans have a tendency to become more and more convinced their views are the views of the world and everyone else is just wrong. From this, ideologies and then eventually extremism is born. So should this theory be right, it would stand to reason that blind affinity is not useful, but honest affinity is. patriot
However, it is my theory that when we humans become invested to a viewpoint, humans have a tendency to become more and more convinced their views are the views of the world and everyone else is just wrong. From this, ideologies and then eventually extremism is born. So should this theory be right, it would stand to reason that blind affinity is not useful, but honest affinity is. patriot
However, it is my theory that when we humans become invested to a viewpoint, humans have a tendency to become more and more convinced their views are the views of the world and everyone else is just wrong. From this, ideologies and then eventually extremism is born. So should this theory be right, it would stand to reason that blind affinity is not useful, but honest affinity is. patriot
However, it is my theory that when we humans become invested to a viewpoint, humans have a tendency to become more and more convinced their views are the views of the world and everyone else is just wrong. From this, ideologies and then eventually extremism is born. So should this theory be right, it would stand to reason that blind affinity is not useful, but honest affinity is. patriot
However, it is my theory that when we humans become invested to a viewpoint, humans have a tendency to become more and more convinced their views are the views of the world and everyone else is just wrong. From this, ideologies and then eventually extremism is born. So should this theory be right, it would stand to reason that blind affinity is not useful, but honest affinity is. patriot
However, it is my theory that when we humans become invested to a viewpoint, humans have a tendency to become more and more convinced their views are the views of the world and everyone else is just wrong. From this, ideologies and then eventually extremism is born. So should this theory be right, it would stand to reason that blind affinity is not useful, but honest affinity is. patriot
However, it is my theory that when we humans become invested to a viewpoint, humans have a tendency to become more and more convinced their views are the views of the world and everyone else is just wrong. From this, ideologies and then eventually extremism is born. So should this theory be right, it would stand to reason that blind affinity is not useful, but honest affinity is. patriot
However, it is my theory that when we humans become invested to a viewpoint, humans have a tendency to become more and more convinced their views are the views of the world and everyone else is just wrong. From this, ideologies and then eventually extremism is born. So should this theory be right, it would stand to reason that blind affinity is not useful, but honest affinity is. patriot
However, it is my theory that when we humans become invested to a viewpoint, humans have a tendency to become more and more convinced their views are the views of the world and everyone else is just wrong. From this, ideologies and then eventually extremism is born. So should this theory be right, it would stand to reason that blind affinity is not useful, but honest affinity is. patriot
However, it is my theory that when we humans become invested to a viewpoint, humans have a tendency to become more and more convinced their views are the views of the world and everyone else is just wrong. From this, ideologies and then eventually extremism is born. So should this theory be right, it would stand to reason that blind affinity is not useful, but honest affinity is. patriot
However, it is my theory that when we humans become invested to a viewpoint, humans have a tendency to become more and more convinced their views are the views of the world and everyone else is just wrong. From this, ideologies and then eventually extremism is born. So should this theory be right, it would stand to reason that blind affinity is not useful, but honest affinity is. patriot
However, it is my theory that when we humans become invested to a viewpoint, humans have a tendency to become more and more convinced their views are the views of the world and everyone else is just wrong. From this, ideologies and then eventually extremism is born. So should this theory be right, it would stand to reason that blind affinity is not useful, but honest affinity is. patriot
However, it is my theory that when we humans become invested to a viewpoint, humans have a tendency to become more and more convinced their views are the views of the world and everyone else is just wrong. From this, ideologies and then eventually extremism is born. So should this theory be right, it would stand to reason that blind affinity is not useful, but honest affinity is. patriot
However, it is my theory that when we humans become invested to a viewpoint, humans have a tendency to become more and more convinced their views are the views of the world and everyone else is just wrong. From this, ideologies and then eventually extremism is born. So should this theory be right, it would stand to reason that blind affinity is not useful, but honest affinity is. patriot
However, it is my theory that when we humans become invested to a viewpoint, humans have a tendency to become more and more convinced their views are the views of the world and everyone else is just wrong. From this, ideologies and then eventually extremism is born. So should this theory be right, it would stand to reason that blind affinity is not useful, but honest affinity is. patriot
However, it is my theory that when we humans become invested to a viewpoint, humans have a tendency to become more and more convinced their views are the views of the world and everyone else is just wrong. From this, ideologies and then eventually extremism is born. So should this theory be right, it would stand to reason that blind affinity is not useful, but honest affinity is. patriot
However, it is my theory that when we humans become invested to a viewpoint, humans have a tendency to become more and more convinced their views are the views of the world and everyone else is just wrong. From this, ideologies and then eventually extremism is born. So should this theory be right, it would stand to reason that blind affinity is not useful, but honest affinity is. patriot
However, it is my theory that when we humans become invested to a viewpoint, humans have a tendency to become more and more convinced their views are the views of the world and everyone else is just wrong. From this, ideologies and then eventually extremism is born. So should this theory be right, it would stand to reason that blind affinity is not useful, but honest affinity is. patriot
However, it is my theory that when we humans become invested to a viewpoint, humans have a tendency to become more and more convinced their views are the views of the world and everyone else is just wrong. From this, ideologies and then eventually extremism is born. So should this theory be right, it would stand to reason that blind affinity is not useful, but honest affinity is. patriot
However, it is my theory that when we humans become invested to a viewpoint, humans have a tendency to become more and more convinced their views are the views of the world and everyone else is just wrong. From this, ideologies and then eventually extremism is born. So should this theory be right, it would stand to reason that blind affinity is not useful, but honest affinity is. patriot
However, it is my theory that when we humans become invested to a viewpoint, humans have a tendency to become more and more convinced their views are the views of the world and everyone else is just wrong. From this, ideologies and then eventually extremism is born. So should this theory be right, it would stand to reason that blind affinity is not useful, but honest affinity is. patriot
However, it is my theory that when we humans become invested to a viewpoint, humans have a tendency to become more and more convinced their views are the views of the world and everyone else is just wrong. From this, ideologies and then eventually extremism is born. So should this theory be right, it would stand to reason that blind affinity is not useful, but honest affinity is. patriot