Anxiety is sometimes overlooked by most people, who may have no knowledge about the different types of anxiety and their symptoms. This article aims to clear the differences and teach you how to recognize them.
Anxiety Disorders
There's anxiousness and then anxiety disorders. While anxiousness may last for a short amount of time like stressing out over a test, that's not the case with anxiety disorders. For a person with an anxiety disorder, that anxiety can never truly go away. It's always lingering there, no matter what. It's like thinking constantly about the things that haven't happened yet, or even feeling like you're trapped and there's no place to go. The main symptom of anxiety disorders is uncontrolled fear and worry. This can also include making it hard to concentrate, stay still, breathe, and sleep. Due to the different symptoms, this can depend on the type of anxiety disorder.

1. SAD (Social Anxiety Disorder)
SAD, also called Social Phobia, is the vigorous terror of being watched and judged by others. It also causes utmost fear in social settings and situations. Also, people may worry or fear acting awkward or anxious (e.g stuttering, blushing), or being viewed as stupid, boring, etc. Unfortunately, SAD can affect these individuals greatly. These individuals may avoid going out to eat with friends due to their hands shaking when they eat, or that it can also interfere with daily routines, relationships, etc. While this disorder affects over 10 million American adults, the average age for SAD is during the teenage years. However, it is most important to note that this disorder is not simply shyness.
Symptoms:
Avoiding doing things or meeting people
Worrying about embarrassing yourself
Sweating
Trembling
Having a shaky voice
Fear of being judged
Nausea
2. GAD (Generalized Anxiety Disorder)
While everyone does feel a little anxious every now and then, for a person with GAD, it's more than that. GAD is excessive or uncontrolled worry about daily events. People with this type of disorder can't stop worrying about school, work, family, etc. For them, there's this constant and nonstop state of worry and fear. And because of this constant worry and fear, this can influence one's thinking to such an extent that they find it so hard to do daily things.
Symptoms:
Difficulty concentrating
Fear of making the wrong decision
Feeling restless and unable to relax
Deeming events and situations as alarming even when they aren't
Nausea
Muscle aches and pains
Trouble sleeping
3. Separation Anxiety Disorder
While many people don't know about this certain disorder, that's why it's key we acknowledge and learn about it. A person with this disorder, often worries and experience distress about being away from a family member or a loved one for a certain amount of time. While separation anxiety is normal for infants, toddlers, and children, in some cases, this disorder can also occur in teenagers and adults. However, most of the time, it's less in adults and teenagers and more in children. Nonetheless, it's still critical to recognize that this is a serious condition and that it's more than feeling anxious about being away from family members and loved ones.
Symptoms:
Constant nightmares about being seperated
Refusing to be away from home
Refusing to sleep away from home without a parent nearby
Fearing something bad like a kidnapping or being lost will happen, resulting in separation
Excessive worry about losing a loved one to a disaster or an illness
4. Panic Disorder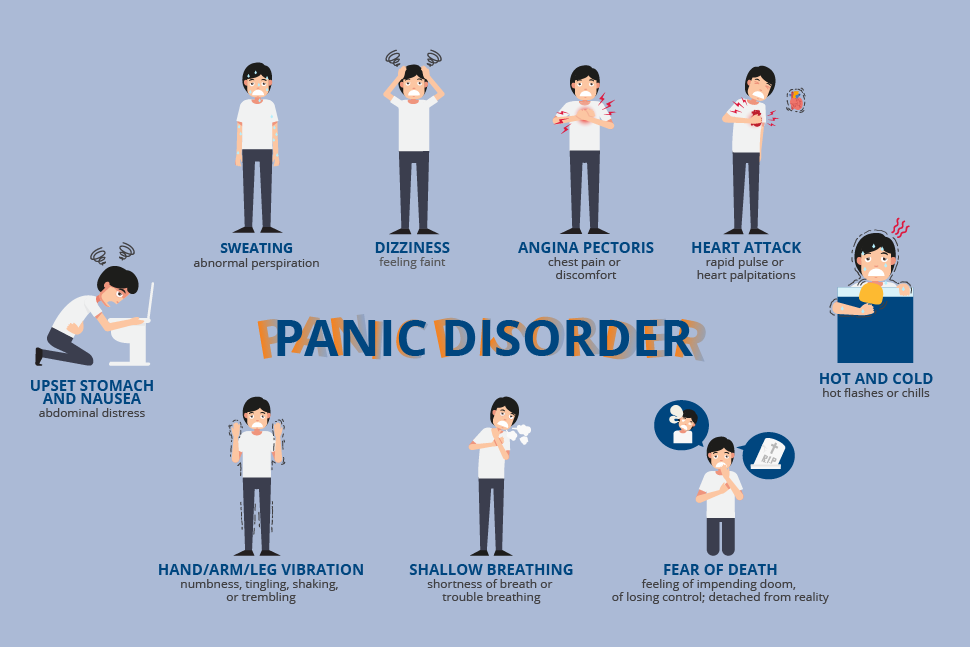 Be sure not to get panic attacks and a panic disorder confused! Panic Attacks usually last about five minutes to an hour and happen only once, though many can experience it again. However, panic disorder is an attack happening consistently. Usually, many people feel that they lose control of themselves and have feelings of terror even though there is no real danger. Unfortunately, because panic attacks can happen whenever, fear takes over and people avoid going out. This even includes avoiding a place where you've had a previous attack.
Symptoms:
Shortness of breath
Racing heart
Feeling lightheaded
Chest pain
Dizziness
Shaking and or trembling
5. OCD (Obsessive-Compulsive Disorder)
OCD causes the urge to do something over and over again and causes repeated unpleasant thoughts. So you may be thinking, "why can't they just stop it?" While people with this disorder may not want to think or do these things, they're unable to stop it because they feel too powerless to. And while people have habits or thoughts that repeat sometimes, it's not the same for people with OCD. For them, they have thoughts or actions that take up at least an hour a day, are beyond your control, etc.
Symptoms:
Needing things to be in order
Unwanted and thoughts
Fear of contamination
Aggressive and or horrific thoughts
Difficulty tolerating uncertainty
6. PTSD (Post Traumatic Stress Disorder)
PTSD is a disorder that occurs in people who have witnessed or experienced a horrific and traumatic event. This includes a serious accident, a natural disaster, being threatened with a weapon, etc. People with PTSD may relive the event through nightmares and flashbacks. As a result, they may feel angry, sad, and detached from others. They may also avoid situations, places, or people who remind them of the event. Also, they have intense, unsettling thoughts and feelings that may last long after the event.
Symptoms:
Distancing yourself from family and friends
Feeling numb
Avoid thinking or talking about the event
Recurring nightmares about the event
Flashbacks
Overwhelming guilt
SAD, also called Social Phobia, is the vigorous terror of being watched and judged by others. It also causes utmost fear in social settings and situations. Also, people may worry or fear acting awkward or anxious (e.g stuttering, blushing), or being viewed as stupid, boring, etc. Unfortunately, SAD can affect these individuals greatly. These individuals may avoid going out to eat with friends due to their hands shaking when they eat, or that it can also interfere with daily routines, relationships, etc. While this disorder affects over 10 million American adults, the average age for SAD is during the teenage years. However, it is most important to note that this disorder is not simply shyness. anxiety
SAD, also called Social Phobia, is the vigorous terror of being watched and judged by others. It also causes utmost fear in social settings and situations. Also, people may worry or fear acting awkward or anxious (e.g stuttering, blushing), or being viewed as stupid, boring, etc. Unfortunately, SAD can affect these individuals greatly. These individuals may avoid going out to eat with friends due to their hands shaking when they eat, or that it can also interfere with daily routines, relationships, etc. While this disorder affects over 10 million American adults, the average age for SAD is during the teenage years. However, it is most important to note that this disorder is not simply shyness. anxiety
SAD, also called Social Phobia, is the vigorous terror of being watched and judged by others. It also causes utmost fear in social settings and situations. Also, people may worry or fear acting awkward or anxious (e.g stuttering, blushing), or being viewed as stupid, boring, etc. Unfortunately, SAD can affect these individuals greatly. These individuals may avoid going out to eat with friends due to their hands shaking when they eat, or that it can also interfere with daily routines, relationships, etc. While this disorder affects over 10 million American adults, the average age for SAD is during the teenage years. However, it is most important to note that this disorder is not simply shyness. anxiety
SAD, also called Social Phobia, is the vigorous terror of being watched and judged by others. It also causes utmost fear in social settings and situations. Also, people may worry or fear acting awkward or anxious (e.g stuttering, blushing), or being viewed as stupid, boring, etc. Unfortunately, SAD can affect these individuals greatly. These individuals may avoid going out to eat with friends due to their hands shaking when they eat, or that it can also interfere with daily routines, relationships, etc. While this disorder affects over 10 million American adults, the average age for SAD is during the teenage years. However, it is most important to note that this disorder is not simply shyness. anxiety
SAD, also called Social Phobia, is the vigorous terror of being watched and judged by others. It also causes utmost fear in social settings and situations. Also, people may worry or fear acting awkward or anxious (e.g stuttering, blushing), or being viewed as stupid, boring, etc. Unfortunately, SAD can affect these individuals greatly. These individuals may avoid going out to eat with friends due to their hands shaking when they eat, or that it can also interfere with daily routines, relationships, etc. While this disorder affects over 10 million American adults, the average age for SAD is during the teenage years. However, it is most important to note that this disorder is not simply shyness. anxiety
SAD, also called Social Phobia, is the vigorous terror of being watched and judged by others. It also causes utmost fear in social settings and situations. Also, people may worry or fear acting awkward or anxious (e.g stuttering, blushing), or being viewed as stupid, boring, etc. Unfortunately, SAD can affect these individuals greatly. These individuals may avoid going out to eat with friends due to their hands shaking when they eat, or that it can also interfere with daily routines, relationships, etc. While this disorder affects over 10 million American adults, the average age for SAD is during the teenage years. However, it is most important to note that this disorder is not simply shyness. anxiety
SAD, also called Social Phobia, is the vigorous terror of being watched and judged by others. It also causes utmost fear in social settings and situations. Also, people may worry or fear acting awkward or anxious (e.g stuttering, blushing), or being viewed as stupid, boring, etc. Unfortunately, SAD can affect these individuals greatly. These individuals may avoid going out to eat with friends due to their hands shaking when they eat, or that it can also interfere with daily routines, relationships, etc. While this disorder affects over 10 million American adults, the average age for SAD is during the teenage years. However, it is most important to note that this disorder is not simply shyness. anxiety
SAD, also called Social Phobia, is the vigorous terror of being watched and judged by others. It also causes utmost fear in social settings and situations. Also, people may worry or fear acting awkward or anxious (e.g stuttering, blushing), or being viewed as stupid, boring, etc. Unfortunately, SAD can affect these individuals greatly. These individuals may avoid going out to eat with friends due to their hands shaking when they eat, or that it can also interfere with daily routines, relationships, etc. While this disorder affects over 10 million American adults, the average age for SAD is during the teenage years. However, it is most important to note that this disorder is not simply shyness. anxiety
SAD, also called Social Phobia, is the vigorous terror of being watched and judged by others. It also causes utmost fear in social settings and situations. Also, people may worry or fear acting awkward or anxious (e.g stuttering, blushing), or being viewed as stupid, boring, etc. Unfortunately, SAD can affect these individuals greatly. These individuals may avoid going out to eat with friends due to their hands shaking when they eat, or that it can also interfere with daily routines, relationships, etc. While this disorder affects over 10 million American adults, the average age for SAD is during the teenage years. However, it is most important to note that this disorder is not simply shyness. anxiety ty
SAD, also called Social Phobia, is the vigorous terror of being watched and judged by others. It also causes utmost fear in social settings and situations. Also, people may worry or fear acting awkward or anxious (e.g stuttering, blushing), or being viewed as stupid, boring, etc. Unfortunately, SAD can affect these individuals greatly. These individuals may avoid going out to eat with friends due to their hands shaking when they eat, or that it can also interfere with daily routines, relationships, etc. While this disorder affects over 10 million American adults, the average age for SAD is during the teenage years. However, it is most important to note that this disorder is not simply shyness. anxiety
SAD, also called Social Phobia, is the vigorous terror of being watched and judged by others. It also causes utmost fear in social settings and situations. Also, people may worry or fear acting awkward or anxious (e.g stuttering, blushing), or being viewed as stupid, boring, etc. Unfortunately, SAD can affect these individuals greatly. These individuals may avoid going out to eat with friends due to their hands shaking when they eat, or that it can also interfere with daily routines, relationships, etc. While this disorder affects over 10 million American adults, the average age for SAD is during the teenage years. However, it is most important to note that this disorder is not simply shyness. anxiety
SAD, also called Social Phobia, is the vigorous terror of being watched and judged by others. It also causes utmost fear in social settings and situations. Also, people may worry or fear acting awkward or anxious (e.g stuttering, blushing), or being viewed as stupid, boring, etc. Unfortunately, SAD can affect these individuals greatly. These individuals may avoid going out to eat with friends due to their hands shaking when they eat, or that it can also interfere with daily routines, relationships, etc. While this disorder affects over 10 million American adults, the average age for SAD is during the teenage years. However, it is most important to note that this disorder is not simply shyness. anxiety
SAD, also called Social Phobia, is the vigorous terror of being watched and judged by others. It also causes utmost fear in social settings and situations. Also, people may worry or fear acting awkward or anxious (e.g stuttering, blushing), or being viewed as stupid, boring, etc. Unfortunately, SAD can affect these individuals greatly. These individuals may avoid going out to eat with friends due to their hands shaking when they eat, or that it can also interfere with daily routines, relationships, etc. While this disorder affects over 10 million American adults, the average age for SAD is during the teenage years. However, it is most important to note that this disorder is not simply shyness. anxiety
SAD, also called Social Phobia, is the vigorous terror of being watched and judged by others. It also causes utmost fear in social settings and situations. Also, people may worry or fear acting awkward or anxious (e.g stuttering, blushing), or being viewed as stupid, boring, etc. Unfortunately, SAD can affect these individuals greatly. These individuals may avoid going out to eat with friends due to their hands shaking when they eat, or that it can also interfere with daily routines, relationships, etc. While this disorder affects over 10 million American adults, the average age for SAD is during the teenage years. However, it is most important to note that this disorder is not simply shyness. anxiety