corona
This disease does not spread via touch, water, air, or fluids, and yet the pathogens of this disease are in our hands! And even you might have this disease. This disease is called "Forwarded as Received" i.e., "The disease of spreading rumors". In the past few months, there have been so many discussions about COVID-19, and it is unbelievable how everyone thinks that they are suddenly doctors! There are many suggestions on online discussion forums, and all across the social media, that nobody is ready to verify.
So let's debunk some common myths about the novel Coronavirus, based on the credible information gained and gathered from WHO  experts and CDC doctors. 
Myth 1: Consuming Non-Vegetarian Food can Cause the Spread of the Coronavirus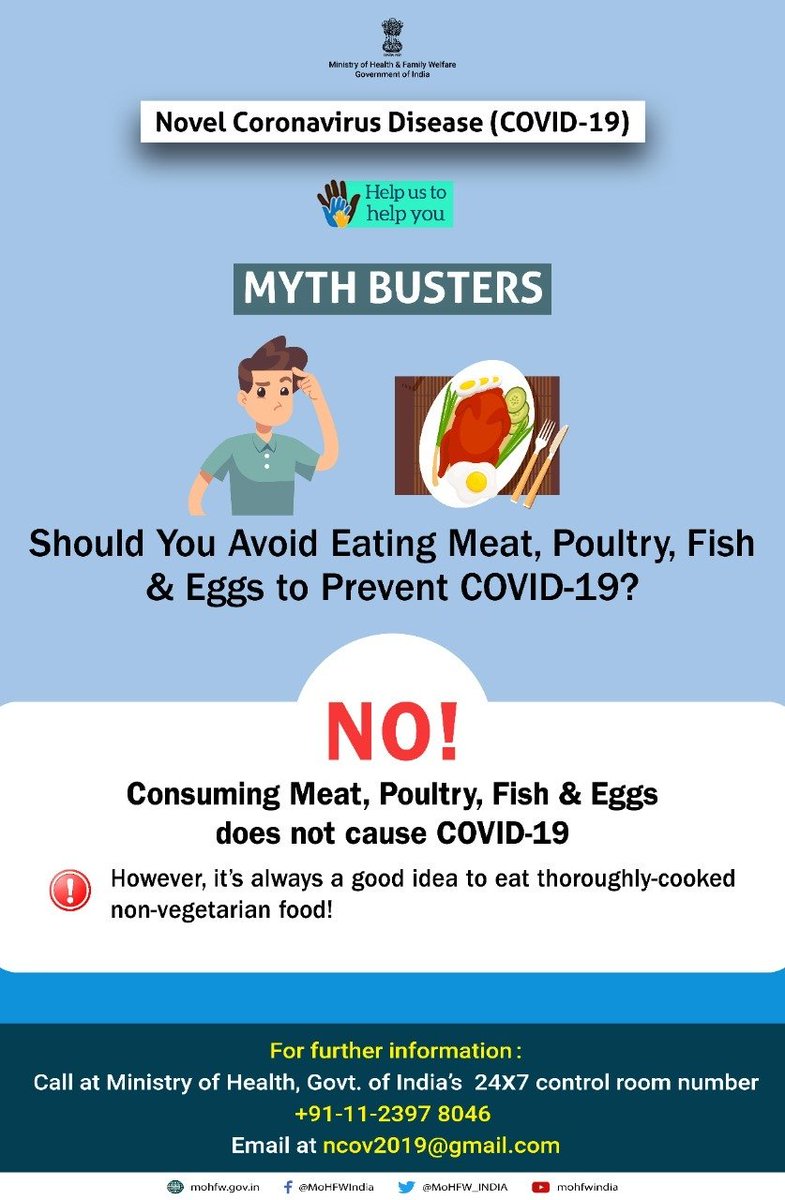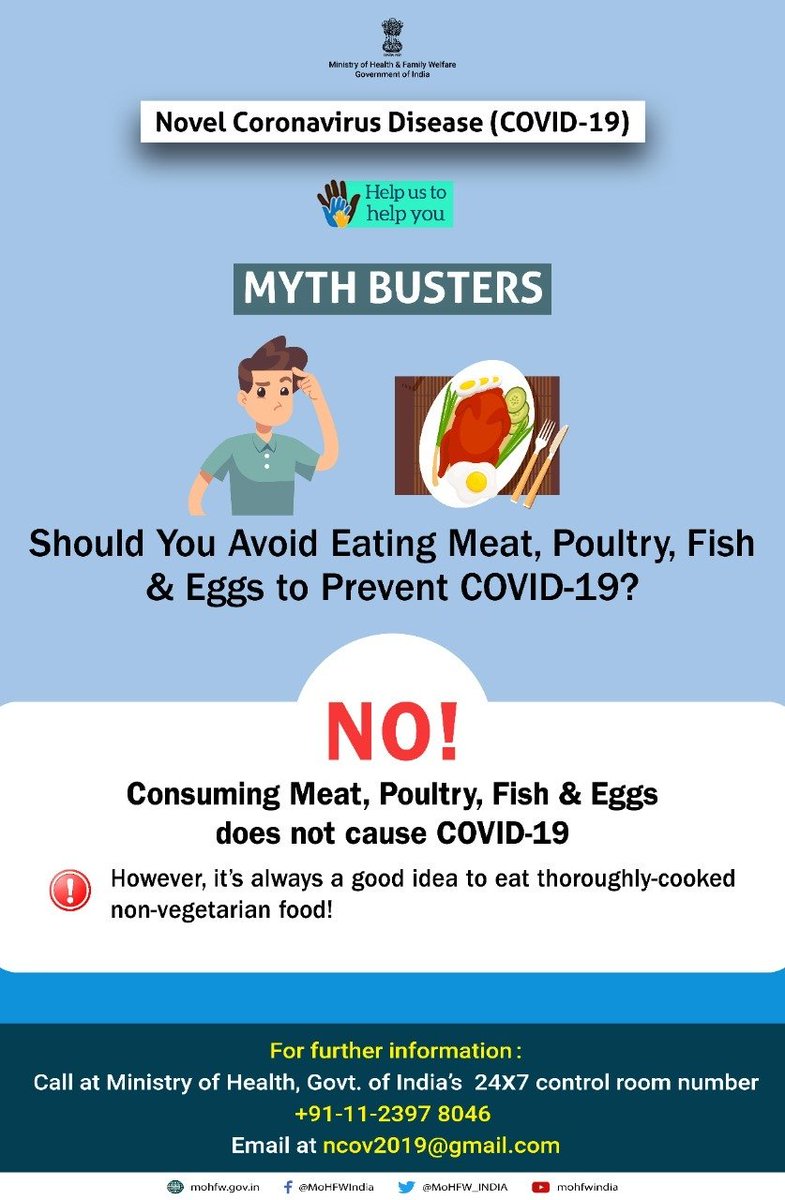 The first case of COVID-19 was detected and tracked to the Wuhan's meat market, where a lot of unusual non-vegetarian dishes were found to be sold. Some of these dishes included snake soup, bat soup, and more exotic items. But Dr. Randeep Guleria has already claimed that consuming non-vegetarian dishes is safe, and the coronavirus does not spread through food.
Myth 2: Your Pets can Give You the Coronavirus
As of now, pets are unable to be infected based on studies conducted and thus they can neither be a carrier nor have the virus.
Myth 3: China has the Cure to the Coronavirus but is Not Giving it Away.
Making vaccines from scratch is very difficult, and COVID-19 is very new to humans. Seeing a vaccine like this in the near future is very difficult, but let's hope for the best.
Myth 4: Hand Sanitizers are Better than Washing Your Hands to Help Reduce the Risk of the Coronavirus
Disease control expert, Mr. Bharat Pankhania, says washing your hands with the correct procedures and techniques, with warm water and soap, and then drying them, is the best solution we have right now. Yes, hand sanitizers containing 60-90% of alcohol content are effective against COVID-19, but it is not better or worse than washing your hands.
To conclude, verify everything before simply believing it. Having trust issues is better than believing unverified content and rumors from across the social media and online discussion forums. One thing we all must understand is that the contents of social media are user-generated, meaning, the users both create and consume the contents. Let's all stay safe from the rumors spreading across the internet.
Stay safe and take care!
This disease does not spread via touch, water, air, or fluids, and yet the pathogens of this disease are in our hands! And even you might have this disease. This disease is called "Forwarded as Received" i.e., "The disease of spreading rumors". In the past few months, there have been so many discussions about COVID-19, and it is unbelievable how everyone thinks that they are suddenly doctors! There are many suggestions on online discussion forums, and all across the social media, that nobody is ready to verify. coron
This disease does not spread via touch, water, air, or fluids, and yet the pathogens of this disease are in our hands! And even you might have this disease. This disease is called "Forwarded as Received" i.e., "The disease of spreading rumors". In the past few months, there have been so many discussions about COVID-19, and it is unbelievable how everyone thinks that they are suddenly doctors! There are many suggestions on online discussion forums, and all across the social media, that nobody is ready to verify. coron
This disease does not spread via touch, water, air, or fluids, and yet the pathogens of this disease are in our hands! And even you might have this disease. This disease is called "Forwarded as Received" i.e., "The disease of spreading rumors". In the past few months, there have been so many discussions about COVID-19, and it is unbelievable how everyone thinks that they are suddenly doctors! There are many suggestions on online discussion forums, and all across the social media, that nobody is ready to verify. coron
This disease does not spread via touch, water, air, or fluids, and yet the pathogens of this disease are in our hands! And even you might have this disease. This disease is called "Forwarded as Received" i.e., "The disease of spreading rumors". In the past few months, there have been so many discussions about COVID-19, and it is unbelievable how everyone thinks that they are suddenly doctors! There are many suggestions on online discussion forums, and all across the social media, that nobody is ready to verify. coron
This disease does not spread via touch, water, air, or fluids, and yet the pathogens of this disease are in our hands! And even you might have this disease. This disease is called "Forwarded as Received" i.e., "The disease of spreading rumors". In the past few months, there have been so many discussions about COVID-19, and it is unbelievable how everyone thinks that they are suddenly doctors! There are many suggestions on online discussion forums, and all across the social media, that nobody is ready to verify. coron
This disease does not spread via touch, water, air, or fluids, and yet the pathogens of this disease are in our hands! And even you might have this disease. This disease is called "Forwarded as Received" i.e., "The disease of spreading rumors". In the past few months, there have been so many discussions about COVID-19, and it is unbelievable how everyone thinks that they are suddenly doctors! There are many suggestions on online discussion forums, and all across the social media, that nobody is ready to verify. coron
This disease does not spread via touch, water, air, or fluids, and yet the pathogens of this disease are in our hands! And even you might have this disease. This disease is called "Forwarded as Received" i.e., "The disease of spreading rumors". In the past few months, there have been so many discussions about COVID-19, and it is unbelievable how everyone thinks that they are suddenly doctors! There are many suggestions on online discussion forums, and all across the social media, that nobody is ready to verify. coron
This disease does not spread via touch, water, air, or fluids, and yet the pathogens of this disease are in our hands! And even you might have this disease. This disease is called "Forwarded as Received" i.e., "The disease of spreading rumors". In the past few months, there have been so many discussions about COVID-19, and it is unbelievable how everyone thinks that they are suddenly doctors! There are many suggestions on online discussion forums, and all across the social media, that nobody is ready to verify. coron
This disease does not spread via touch, water, air, or fluids, and yet the pathogens of this disease are in our hands! And even you might have this disease. This disease is called "Forwarded as Received" i.e., "The disease of spreading rumors". In the past few months, there have been so many discussions about COVID-19, and it is unbelievable how everyone thinks that they are suddenly doctors! There are many suggestions on online discussion forums, and all across the social media, that nobody is ready to verify. coron
This disease does not spread via touch, water, air, or fluids, and yet the pathogens of this disease are in our hands! And even you might have this disease. This disease is called "Forwarded as Received" i.e., "The disease of spreading rumors". In the past few months, there have been so many discussions about COVID-19, and it is unbelievable how everyone thinks that they are suddenly doctors! There are many suggestions on online discussion forums, and all across the social media, that nobody is ready to verify. coron
This disease does not spread via touch, water, air, or fluids, and yet the pathogens of this disease are in our hands! And even you might have this disease. This disease is called "Forwarded as Received" i.e., "The disease of spreading rumors". In the past few months, there have been so many discussions about COVID-19, and it is unbelievable how everyone thinks that they are suddenly doctors! There are many suggestions on online discussion forums, and all across the social media, that nobody is ready to verify. coron
This disease does not spread via touch, water, air, or fluids, and yet the pathogens of this disease are in our hands! And even you might have this disease. This disease is called "Forwarded as Received" i.e., "The disease of spreading rumors". In the past few months, there have been so many discussions about COVID-19, and it is unbelievable how everyone thinks that they are suddenly doctors! There are many suggestions on online discussion forums, and all across the social media, that nobody is ready to verify. coron
This disease does not spread via touch, water, air, or fluids, and yet the pathogens of this disease are in our hands! And even you might have this disease. This disease is called "Forwarded as Received" i.e., "The disease of spreading rumors". In the past few months, there have been so many discussions about COVID-19, and it is unbelievable how everyone thinks that they are suddenly doctors! There are many suggestions on online discussion forums, and all across the social media, that nobody is ready to verify. coron
This disease does not spread via touch, water, air, or fluids, and yet the pathogens of this disease are in our hands! And even you might have this disease. This disease is called "Forwarded as Received" i.e., "The disease of spreading rumors". In the past few months, there have been so many discussions about COVID-19, and it is unbelievable how everyone thinks that they are suddenly doctors! There are many suggestions on online discussion forums, and all across the social media, that nobody is ready to verify. coron
This disease does not spread via touch, water, air, or fluids, and yet the pathogens of this disease are in our hands! And even you might have this disease. This disease is called "Forwarded as Received" i.e., "The disease of spreading rumors". In the past few months, there have been so many discussions about COVID-19, and it is unbelievable how everyone thinks that they are suddenly doctors! There are many suggestions on online discussion forums, and all across the social media, that nobody is ready to verify. coron
This disease does not spread via touch, water, air, or fluids, and yet the pathogens of this disease are in our hands! And even you might have this disease. This disease is called "Forwarded as Received" i.e., "The disease of spreading rumors". In the past few months, there have been so many discussions about COVID-19, and it is unbelievable how everyone thinks that they are suddenly doctors! There are many suggestions on online discussion forums, and all across the social media, that nobody is ready to verify. coron
This disease does not spread via touch, water, air, or fluids, and yet the pathogens of this disease are in our hands! And even you might have this disease. This disease is called "Forwarded as Received" i.e., "The disease of spreading rumors". In the past few months, there have been so many discussions about COVID-19, and it is unbelievable how everyone thinks that they are suddenly doctors! There are many suggestions on online discussion forums, and all across the social media, that nobody is ready to verify. coron
This disease does not spread via touch, water, air, or fluids, and yet the pathogens of this disease are in our hands! And even you might have this disease. This disease is called "Forwarded as Received" i.e., "The disease of spreading rumors". In the past few months, there have been so many discussions about COVID-19, and it is unbelievable how everyone thinks that they are suddenly doctors! There are many suggestions on online discussion forums, and all across the social media, that nobody is ready to verify. coron
This disease does not spread via touch, water, air, or fluids, and yet the pathogens of this disease are in our hands! And even you might have this disease. This disease is called "Forwarded as Received" i.e., "The disease of spreading rumors". In the past few months, there have been so many discussions about COVID-19, and it is unbelievable how everyone thinks that they are suddenly doctors! There are many suggestions on online discussion forums, and all across the social media, that nobody is ready to verify. coron
This disease does not spread via touch, water, air, or fluids, and yet the pathogens of this disease are in our hands! And even you might have this disease. This disease is called "Forwarded as Received" i.e., "The disease of spreading rumors". In the past few months, there have been so many discussions about COVID-19, and it is unbelievable how everyone thinks that they are suddenly doctors! There are many suggestions on online discussion forums, and all across the social media, that nobody is ready to verify. coron
This disease does not spread via touch, water, air, or fluids, and yet the pathogens of this disease are in our hands! And even you might have this disease. This disease is called "Forwarded as Received" i.e., "The disease of spreading rumors". In the past few months, there have been so many discussions about COVID-19, and it is unbelievable how everyone thinks that they are suddenly doctors! There are many suggestions on online discussion forums, and all across the social media, that nobody is ready to verify. coron
This disease does not spread via touch, water, air, or fluids, and yet the pathogens of this disease are in our hands! And even you might have this disease. This disease is called "Forwarded as Received" i.e., "The disease of spreading rumors". In the past few months, there have been so many discussions about COVID-19, and it is unbelievable how everyone thinks that they are suddenly doctors! There are many suggestions on online discussion forums, and all across the social media, that nobody is ready to verify. coron
This disease does not spread via touch, water, air, or fluids, and yet the pathogens of this disease are in our hands! And even you might have this disease. This disease is called "Forwarded as Received" i.e., "The disease of spreading rumors". In the past few months, there have been so many discussions about COVID-19, and it is unbelievable how everyone thinks that they are suddenly doctors! There are many suggestions on online discussion forums, and all across the social media, that nobody is ready to verify. coron
This disease does not spread via touch, water, air, or fluids, and yet the pathogens of this disease are in our hands! And even you might have this disease. This disease is called "Forwarded as Received" i.e., "The disease of spreading rumors". In the past few months, there have been so many discussions about COVID-19, and it is unbelievable how everyone thinks that they are suddenly doctors! There are many suggestions on online discussion forums, and all across the social media, that nobody is ready to verify. coron