Travelling is the most popular activity among people these days. Some people travel to exotic summer beaches and some to snow-capped mountains. But getting out of your comfort zone and traveling places never seen or heard of is a totally different adventure.
1.) Movile Cave, Romania
Movile Cave is a cave near Mangalia, Constanța County, Romania, discovered in 1986 by Cristian Lascu, a few kilometres from the Black Sea coast. It is notable for its unique groundwater ecosystem abundant in hydrogen sulfide and carbon dioxide, but low in oxygen.
What is special about this place?
Despite the complete absence of light and a poisonous atmosphere, the cave is still creeping with life. There are many unique species like scorpions, centipedes and woodlice, which have never been noticed by humans before.
Due to complete absence of light in the cave, the process of photosynthesis does not take place. Living creatures sustain there by the process of chemosynthesis. Another notable point about the cave is that, life has been separated from the earth's atmosphere for the past 55 lakhs+ (5,000,000) years.
Spooky as it sounds, right?
2.) Sigiriya Fortress, Sri Lanka
Sigiriya or Sinhagiri is an ancient rock fortress located in the northern Matale District near the town of Dambulla in the Central Province, Sri Lanka. According to an ancient Sri Lankan Chronicle, The Culavamsa, this site was selected by King Kashyapa for his new capital.
What is special about this place?
Hidden atop an unusual 200-meter high geological formation, there lies a temple that reaches for the stars: Sigiriya. This ancient site is considered by many scholars the eighth wonder of the world.
3.) Lake Vostok, Antartica
Lake Vostok is the largest of Antarctica's almost 400 known subglacial lakes. Lake Vostok is located at the southern Pole of Cold, beneath Russia's Vostok Station under the surface of the central East Antarctic Ice Sheet, which is at 3,488 m above mean sea level.
No other natural environment on Earth is as rich in oxygen as Lake Vostok. For this matter, if there are any creatures living in the lake, they would probably need to get adapted to the high levels of oxygen to be able to survive. The environment in the lake is very similar to that on Jupiter's moon Europa or Saturn's moon Enceladus. How cool is that?!
4.) Sima Humboldt, Venezuela
Sima Humboldt (Sima Mayor) is an enormous sinkhole located on the summit of the plateau of Sarisariñama tepui in Bolívar State, Venezuela. It is unusual for several reasons, including its enormous size and depth, its location on the top of the only forested tepui, having a patch of forest on its base and also due to the weathering process that formed this sinkhole. The feature is named after scientist and explorer Alexander von Humboldt.
Sima Humboldt or Sima major is the largest one. Its depth is 314 meters with a volume of 21 million cubic meters. At the upper rim of the sinkhole is a maximum 352 meters wide, but down below is about 502 meters down.
There are traces of small stalactites mats and colloids of opal. The formation of opal has been initiated by bacteriological processes. One can find gypsum crusts as well.
5.) Challenger Deep, Federated States of Micronesia
The Challenger Deep is the deepest known point in the Earth's seabed hydrosphere, with a depth of 10,902 to 10,929 m by direct measurement from deep-diving submersibles, remotely operated vehicles and benthic landers and slightly more by sonar bathymetry.
It was formed around 180 million years ago and is among the oldest sea beds in the world, as other areas are still in a process of constant change due to formation of a combination of volcanic eruption and plate tectonics.
6.) Underwater Waterfalls, Mauritius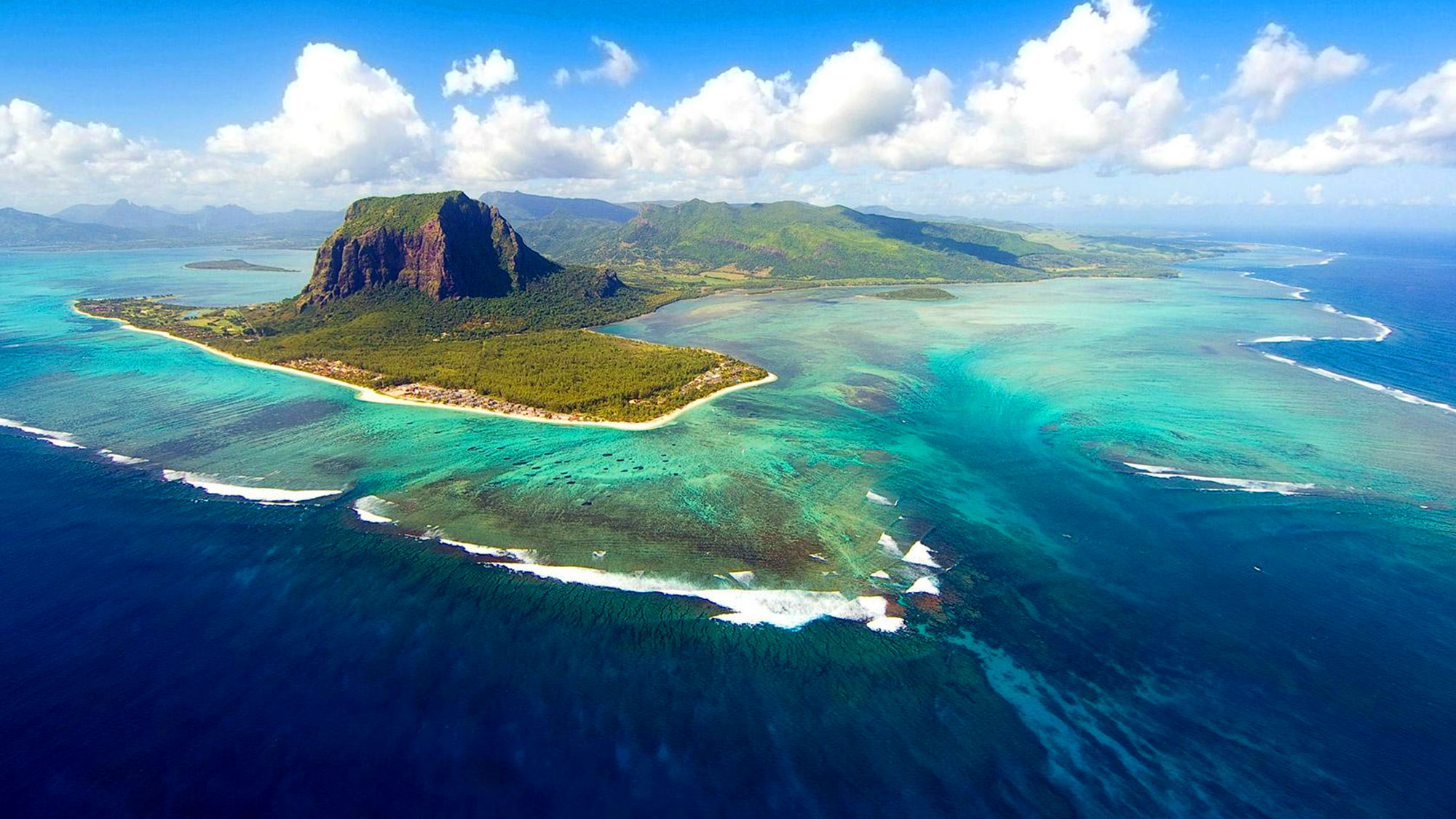 Mauritius, an Indian Ocean island nation, is known for its beaches, lagoons and reefs. The mountainous interior includes Black River Gorges National Park, with rainforests, waterfalls, hiking trails and wildlife like the flying fox.
But now we know that Mauritius has something even more rare- an optical illusion that makes it look like there's an underwater waterfall within the ocean. Science easily explains that in reality, there's no such waterfall but it's just the impression of one as sand and silt sink farther into the sea, from one coastal shelf to a much deeper one off the southernmost part of Mauritius.
Read more Travel articles at The Teen Pop Magazine!
But now we know that Mauritius has something even more rare- an optical illusion that makes it look like there's an underwater waterfall within the ocean. Science easily explains that in reality, there's no such waterfall but it's just the impression of one as sand and silt sink farther into the sea, from one coastal shelf to a much deeper one off the southernmost part of Mauritius. travel
But now we know that Mauritius has something even more rare- an optical illusion that makes it look like there's an underwater waterfall within the ocean. Science easily explains that in reality, there's no such waterfall but it's just the impression of one as sand and silt sink farther into the sea, from one coastal shelf to a much deeper one off the southernmost part of Mauritius. travel
But now we know that Mauritius has something even more rare- an optical illusion that makes it look like there's an underwater waterfall within the ocean. Science easily explains that in reality, there's no such waterfall but it's just the impression of one as sand and silt sink farther into the sea, from one coastal shelf to a much deeper one off the southernmost part of Mauritius. travel
But now we know that Mauritius has something even more rare- an optical illusion that makes it look like there's an underwater waterfall within the ocean. Science easily explains that in reality, there's no such waterfall but it's just the impression of one as sand and silt sink farther into the sea, from one coastal shelf to a much deeper one off the southernmost part of Mauritius. travel
But now we know that Mauritius has something even more rare- an optical illusion that makes it look like there's an underwater waterfall within the ocean. Science easily explains that in reality, there's no such waterfall but it's just the impression of one as sand and silt sink farther into the sea, from one coastal shelf to a much deeper one off the southernmost part of Mauritius. travel
But now we know that Mauritius has something even more rare- an optical illusion that makes it look like there's an underwater waterfall within the ocean. Science easily explains that in reality, there's no such waterfall but it's just the impression of one as sand and silt sink farther into the sea, from one coastal shelf to a much deeper one off the southernmost part of Mauritius. travel
But now we know that Mauritius has something even more rare- an optical illusion that makes it look like there's an underwater waterfall within the ocean. Science easily explains that in reality, there's no such waterfall but it's just the impression of one as sand and silt sink farther into the sea, from one coastal shelf to a much deeper one off the southernmost part of Mauritius. travel
But now we know that Mauritius has something even more rare- an optical illusion that makes it look like there's an underwater waterfall within the ocean. Science easily explains that in reality, there's no such waterfall but it's just the impression of one as sand and silt sink farther into the sea, from one coastal shelf to a much deeper one off the southernmost part of Mauritius. travel
But now we know that Mauritius has something even more rare- an optical illusion that makes it look like there's an underwater waterfall within the ocean. Science easily explains that in reality, there's no such waterfall but it's just the impression of one as sand and silt sink farther into the sea, from one coastal shelf to a much deeper one off the southernmost part of Mauritius. travel
But now we know that Mauritius has something even more rare- an optical illusion that makes it look like there's an underwater waterfall within the ocean. Science easily explains that in reality, there's no such waterfall but it's just the impression of one as sand and silt sink farther into the sea, from one coastal shelf to a much deeper one off the southernmost part of Mauritius. travel
But now we know that Mauritius has something even more rare- an optical illusion that makes it look like there's an underwater waterfall within the ocean. Science easily explains that in reality, there's no such waterfall but it's just the impression of one as sand and silt sink farther into the sea, from one coastal shelf to a much deeper one off the southernmost part of Mauritius. travel
But now we know that Mauritius has something even more rare- an optical illusion that makes it look like there's an underwater waterfall within the ocean. Science easily explains that in reality, there's no such waterfall but it's just the impression of one as sand and silt sink farther into the sea, from one coastal shelf to a much deeper one off the southernmost part of Mauritius. travel
But now we know that Mauritius has something even more rare- an optical illusion that makes it look like there's an underwater waterfall within the ocean. Science easily explains that in reality, there's no such waterfall but it's just the impression of one as sand and silt sink farther into the sea, from one coastal shelf to a much deeper one off the southernmost part of Mauritius. travel
But now we know that Mauritius has something even more rare- an optical illusion that makes it look like there's an underwater waterfall within the ocean. Science easily explains that in reality, there's no such waterfall but it's just the impression of one as sand and silt sink farther into the sea, from one coastal shelf to a much deeper one off the southernmost part of Mauritius. travel
But now we know that Mauritius has something even more rare- an optical illusion that makes it look like there's an underwater waterfall within the ocean. Science easily explains that in reality, there's no such waterfall but it's just the impression of one as sand and silt sink farther into the sea, from one coastal shelf to a much deeper one off the southernmost part of Mauritius. travel
But now we know that Mauritius has something even more rare- an optical illusion that makes it look like there's an underwater waterfall within the ocean. Science easily explains that in reality, there's no such waterfall but it's just the impression of one as sand and silt sink farther into the sea, from one coastal shelf to a much deeper one off the southernmost part of Mauritius. travel
But now we know that Mauritius has something even more rare- an optical illusion that makes it look like there's an underwater waterfall within the ocean. Science easily explains that in reality, there's no such waterfall but it's just the impression of one as sand and silt sink farther into the sea, from one coastal shelf to a much deeper one off the southernmost part of Mauritius. travel
But now we know that Mauritius has something even more rare- an optical illusion that makes it look like there's an underwater waterfall within the ocean. Science easily explains that in reality, there's no such waterfall but it's just the impression of one as sand and silt sink farther into the sea, from one coastal shelf to a much deeper one off the southernmost part of Mauritius. travel
But now we know that Mauritius has something even more rare- an optical illusion that makes it look like there's an underwater waterfall within the ocean. Science easily explains that in reality, there's no such waterfall but it's just the impression of one as sand and silt sink farther into the sea, from one coastal shelf to a much deeper one off the southernmost part of Mauritius. travel
But now we know that Mauritius has something even more rare- an optical illusion that makes it look like there's an underwater waterfall within the ocean. Science easily explains that in reality, there's no such waterfall but it's just the impression of one as sand and silt sink farther into the sea, from one coastal shelf to a much deeper one off the southernmost part of Mauritius. travel
But now we know that Mauritius has something even more rare- an optical illusion that makes it look like there's an underwater waterfall within the ocean. Science easily explains that in reality, there's no such waterfall but it's just the impression of one as sand and silt sink farther into the sea, from one coastal shelf to a much deeper one off the southernmost part of Mauritius. travel
But now we know that Mauritius has something even more rare- an optical illusion that makes it look like there's an underwater waterfall within the ocean. Science easily explains that in reality, there's no such waterfall but it's just the impression of one as sand and silt sink farther into the sea, from one coastal shelf to a much deeper one off the southernmost part of Mauritius. travel
But now we know that Mauritius has something even more rare- an optical illusion that makes it look like there's an underwater waterfall within the ocean. Science easily explains that in reality, there's no such waterfall but it's just the impression of one as sand and silt sink farther into the sea, from one coastal shelf to a much deeper one off the southernmost part of Mauritius. travel
But now we know that Mauritius has something even more rare- an optical illusion that makes it look like there's an underwater waterfall within the ocean. Science easily explains that in reality, there's no such waterfall but it's just the impression of one as sand and silt sink farther into the sea, from one coastal shelf to a much deeper one off the southernmost part of Mauritius. travel
But now we know that Mauritius has something even more rare- an optical illusion that makes it look like there's an underwater waterfall within the ocean. Science easily explains that in reality, there's no such waterfall but it's just the impression of one as sand and silt sink farther into the sea, from one coastal shelf to a much deeper one off the southernmost part of Mauritius. travel
But now we know that Mauritius has something even more rare- an optical illusion that makes it look like there's an underwater waterfall within the ocean. Science easily explains that in reality, there's no such waterfall but it's just the impression of one as sand and silt sink farther into the sea, from one coastal shelf to a much deeper one off the southernmost part of Mauritius. travel
But now we know that Mauritius has something even more rare- an optical illusion that makes it look like there's an underwater waterfall within the ocean. Science easily explains that in reality, there's no such waterfall but it's just the impression of one as sand and silt sink farther into the sea, from one coastal shelf to a much deeper one off the southernmost part of Mauritius. travel