https://www.tiktok.com/@kaelynwhitee/video/6787543850828254470?lang=en
https://www.tiktok.com/@kaelynwhitee/video/6787543850828254470?lang=en
Skincare mishaps can be very frustrating and the slightest mark can be the difference between looking like a model or a bum. Here are 5 common mistakes to avoid when using skincare products.
Before the skincare trend hit social media, some people found it to be just a simple step in their daily routine. Now, teens all over the world splurge on products in hopes to achieve clear skin. Earlier this year in January, a TikTok user by the name of @kaelynwhitee posted a video of her displaying her acne and then using the 'AHA 30% + BHA 2% Peeling Solution by The Ordinary'. Soon after, the bumps and acne scars disappeared. This video immediately gained popularity and currently stands at 1.3 million views. After circulating social media, The Ordinary proceeded to sell 57,000 units of this product by February!
Subsequently, we started seeing a rise in followers to those who provided skincare advice on TikTok and YouTube. Hyram Yarbro and J.C. Dombrowski, who currently have the largest following when it comes to skincare, both rose to fame at this time, along with many other influencers who gave free skincare advice online. Shelves were being cleared of products these influencers had recommended, and many teens started posting their astonishing results all over social media.
Skincare influencers have doubtlessly outlined an adequate skincare routine and hit the mark on educating teens about ingredients, skin types, and types of skin conditions, and have constantly emphasized that less is more. However, some teens are still left frustrated not knowing why the products that are working for most people aren't baring results for them. After watching some videos from frustrated teens, I have come up with a list of mistakes that could be the reason your skincare "isn't working" or is worsening your skin.
---
1. Incorrectly Layering "Active Ingredients"
An active ingredient is an ingredient that provides value to a product and does what the product is advertised to do, while inactive ingredients perform as carrying mediums, preservatives and/or stabilizers. When layering certain active ingredients with others they can potentially become irritants and provide no benefit from either product. Improper layering can result in breakouts, worsening of pre-existing problems, chemical burns, flakiness, redness, or the products could simply cancel out and prove to be completely ineffective.
Some Active Ingredients You Should NEVER Layer
Strong acids + Strong acids
Any Peptide + Strong Acids
Retinoid + Retinoid
Retinoid + Vitamin C, Strong Acids
There are many ingredients that are versatile and can be layered with products of your choice and can serve as a satisfactory replacement for some of the ingredients above. When buying new skincare products, always do your research and certify that the new products will cooperate with the products you plan on using them with before introducing them to your skincare routine.
2. Not Determining Your Skin Type
When choosing the appropriate skincare, it is essential to know what your skin type is. Some people may tend to buy products that are tailored to improve their skin conditions, however, will see no improvement or worsening of the problem because the product isn't compatible with their skin type.
For example, someone who suffers from dry skin but has bumps due to congestion may resort to products with a high concentration of salicylic acid which instead may dry out their skin by reducing sebum production in turn worsening the problem. Remember, your skin type doesn't change but your skin condition (made the link applicable to "skin condition" rather than almost the whole sentence) can, so it is crucial you choose products that will balance out your skin's oil production level.
How to Determine Your Skin Type
Here are two at-home tests you can perform to accurately determine your skin type.
The Wash Test: Wash your face with a mild cleanser, pat dry and wait 30 minutes. After 30 minutes examine your skin for oils, redness, tightness, shine, flakiness and any other prominent changes.
The Day Test: In the morning, wash your face with a mild cleanser, then pat dry. Leave it bare for the rest of the day avoiding all activities that could cause you to break a sweat or expose you to irritants. Examine your skin for oils, redness, tightness, shine, flakiness and other prominent changes.
After performing one of these tests, you should be able to categorize yourself into one of the 4 skin types.
Normal Skin: Minimal oil, no flakiness or redness. No prominent inconsistencies with the skin.
Oily Skin: Oils present on the skin and it tends to look shiny.
Dry Skin: Could appear as either flaky, tight, or patchy.
Combination Skin: Oily and shiny in the T-Zone but appears matte everywhere else.
If you are still confused by what your skin type is, avoid incorrect diagnoses and head straight to a dermatologist. Once you determine your skin type, make sure you buy products that are specifically tailored towards your skin type to prevent any damage to your skin.
3. Not Recognizing the Difference Between Dry and Dehydrated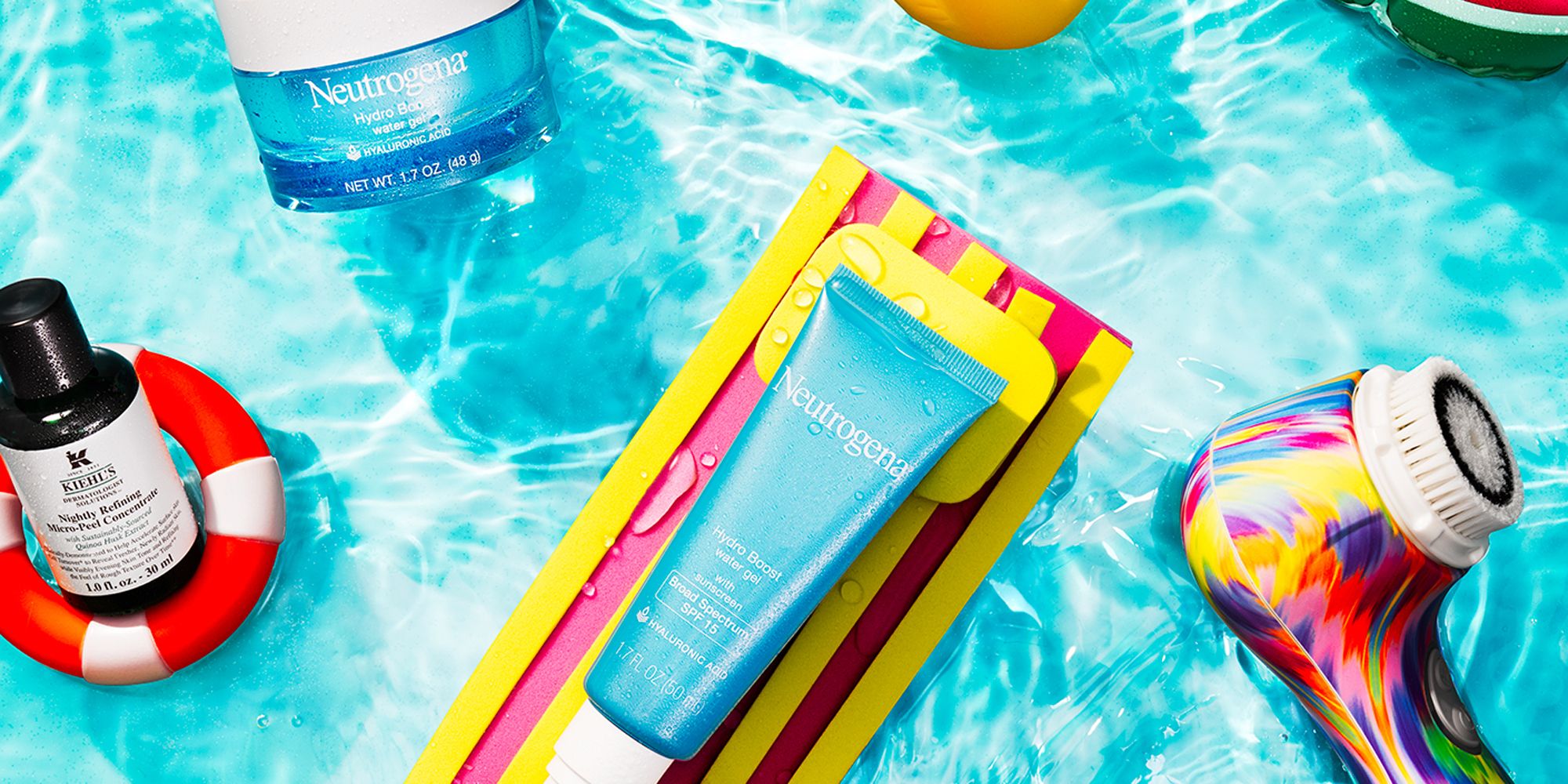 After people determine their skin type, they often come to conclusions on exactly what their skin needs, for example, individuals with oily skin will lean towards getting drying products which will control the oil level on the surface of their skin in contrast to those with dry skin who would lean towards nourishing and hydrating products. However dehydration is a condition not a skin type, so individuals with dehydrated skin can also have any skin type. Since dehydrated skin can be mistaken for dry, it often goes untreated.
A simple way to differentiate the two is understanding that dry skin is a lack of oils in the skin, meaning those with dry skin don't produce enough sebum to create a healthy barrier on the surface of the skin, whereas dehydration refers to the lack of water. Symptoms of dehydrated skin include wrinkles, large dark circles, tightness, dullness and congestion.
Treatment for Dehydrated Skin
Drink more water
Use a humidifier
Use a serum with Hyaluronic Acid
Use a heavy oil-free moisturizer at night (unless your skin type is dry)
Look for glycerin, aloe, honey, lactic acid or ceramide in the ingredients of the products you use.
Use a water-based mist (fragrance-free!)
4. Missing Out on the Right Kind of SPF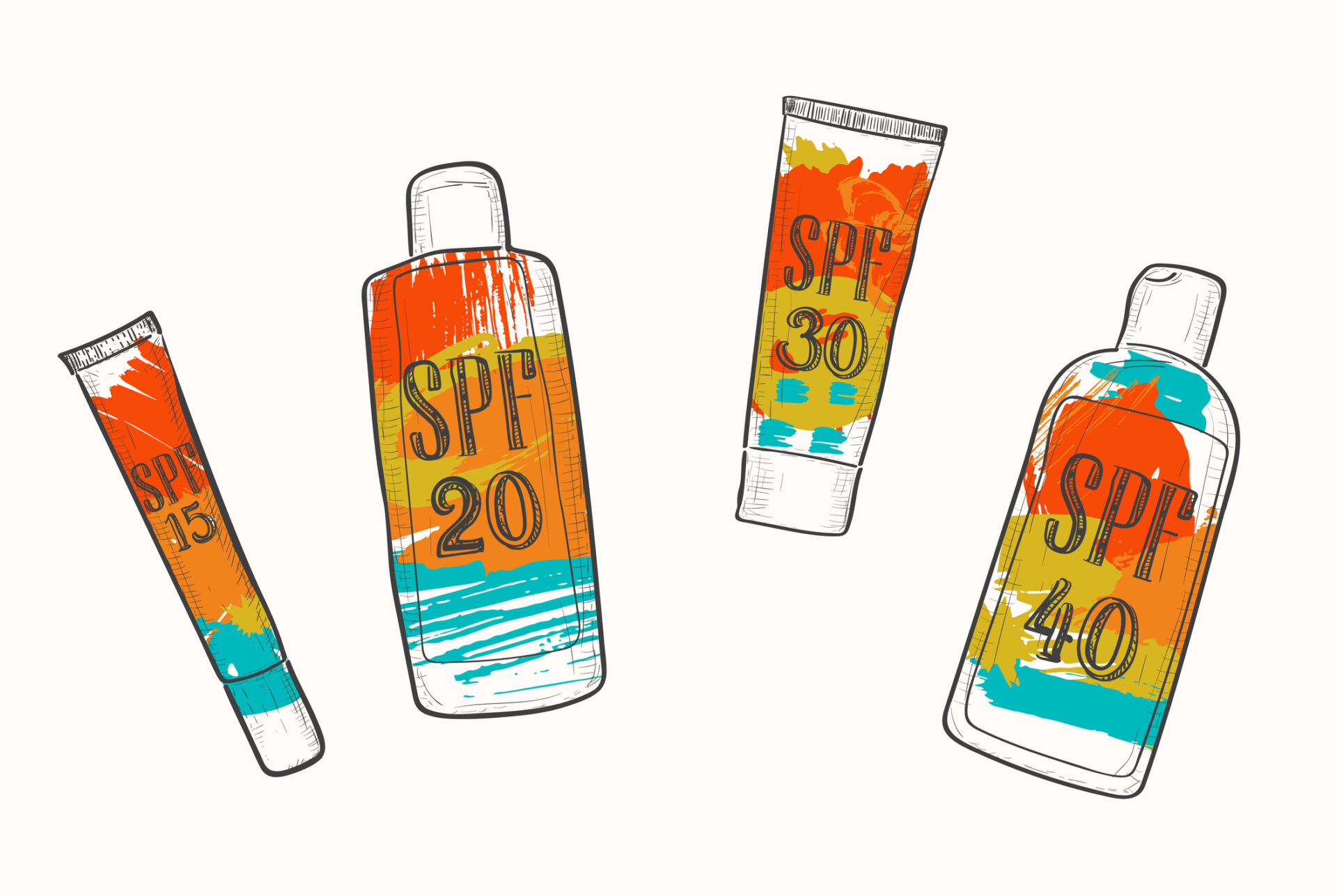 The growing emphasis of proper exfoliation on social media has caused many people to turn to chemical exfoliators, which almost immediately shed the layer of dead skin on the surface. However, chemical exfoliators are proven to tend to make your skin more sensitive to the sun's harmful rays. To prevent sun damage, the proper use of SPF is absolutely vital. Regardless of what your skincare routine consists of, SPF is a must.
What to look for when picking out a sunscreen
Look for SPF 15 to use indoors and SPF 30-50 to use outside
Opt for mineral sunscreens, specifically those with zinc
Remember higher SPF doesn't mean it performs better
5. Avoiding chemicals and opting for "natural"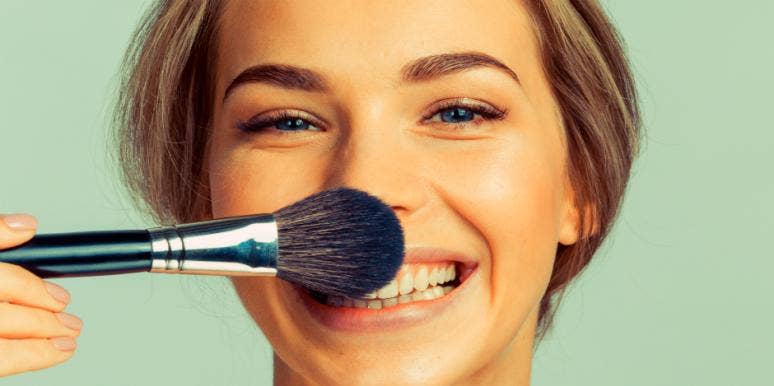 People all over the internet claim "if you can't pronounce the ingredients it has no business being on your skin", this couldn't be further from the truth. "Natural" in skincare is such a broad term. It can mean anything from having one plant or animal-based ingredient, to being formulated with no preservatives. The FDA provides no definition of the word natural in cosmetics and specifically states that "natural" does not mean safer to use.
Products labeled "natural, 100% preservative-free" may be the culprit for sudden acne. These products tend to have a short shelf life and are prone to harvesting bacteria, mold, fungus or yeast if they are not disposed in time. Even if the products are used before they expire, you might still be putting bacteria, mold fungus, or yeast on your face if not stored correctly. A basic guideline to know if a product needs preservatives is checking if it is aqueous.
There haven't been nearly enough research studies done on products labeled natural to know if they are even at the least beneficial. The same issue stands with homemade skincare.
It either has little to no value to your skin due to the low concentration of beneficial molecules, lacks the inactive ingredients present in chemical skincare which help transport the product into the skin where it will reach it's full potential, and is also highly susceptible to harvesting bacteria quickly.
Chemical products have a high concentration of molecules formulated specifically for the skin and are absorbed into the skin correctly due to the correct balance of inactive ingredients to maximize the treatment for specific skin conditions. Chemical products have been rigorously tested and are regulated by the FDA; with proper use, they should be the most beneficial skin treatment.
If I haven't convinced you yet, know that most products labeled natural, regardless of their labels, still contain chemicals or irritants! When choosing skincare try to avoid labels, instead look straight at the ingredients list and do your research.
Bottom line when it comes to skincare, do your research! It is important to understand that many products out there are misleadingly labelled, so it is crucial you know what ingredients you are putting on your face to avoid making some of these mistakes. If you have any serious skin concerns, go to a dermatologist to get it treated.
Keep in mind that everyone's skin is different and what works for one person will not always work for others. It can be a trial and error process before determining what works for you. Remember, patience is key.
Products labeled "natural, 100% preservative-free" may be the culprit for sudden acne. These products tend to have a short shelf life and are prone to harvesting bacteria, mold, fungus or yeast if they are not disposed in time. Even if the products are used before they expire, you might still be putting bacteria, mold fungus, or yeast on your face if not stored correctly. A basic guideline to know if a product needs preservatives is checking if it is aqueous. skincare
Products labeled "natural, 100% preservative-free" may be the culprit for sudden acne. These products tend to have a short shelf life and are prone to harvesting bacteria, mold, fungus or yeast if they are not disposed in time. Even if the products are used before they expire, you might still be putting bacteria, mold fungus, or yeast on your face if not stored correctly. A basic guideline to know if a product needs preservatives is checking if it is aqueous. skincare
Products labeled "natural, 100% preservative-free" may be the culprit for sudden acne. These products tend to have a short shelf life and are prone to harvesting bacteria, mold, fungus or yeast if they are not disposed in time. Even if the products are used before they expire, you might still be putting bacteria, mold fungus, or yeast on your face if not stored correctly. A basic guideline to know if a product needs preservatives is checking if it is aqueous. skincare
Products labeled "natural, 100% preservative-free" may be the culprit for sudden acne. These products tend to have a short shelf life and are prone to harvesting bacteria, mold, fungus or yeast if they are not disposed in time. Even if the products are used before they expire, you might still be putting bacteria, mold fungus, or yeast on your face if not stored correctly. A basic guideline to know if a product needs preservatives is checking if it is aqueous. skincare
Products labeled "natural, 100% preservative-free" may be the culprit for sudden acne. These products tend to have a short shelf life and are prone to harvesting bacteria, mold, fungus or yeast if they are not disposed in time. Even if the products are used before they expire, you might still be putting bacteria, mold fungus, or yeast on your face if not stored correctly. A basic guideline to know if a product needs preservatives is checking if it is aqueous. skincare
Products labeled "natural, 100% preservative-free" may be the culprit for sudden acne. These products tend to have a short shelf life and are prone to harvesting bacteria, mold, fungus or yeast if they are not disposed in time. Even if the products are used before they expire, you might still be putting bacteria, mold fungus, or yeast on your face if not stored correctly. A basic guideline to know if a product needs preservatives is checking if it is aqueous. skincare
Products labeled "natural, 100% preservative-free" may be the culprit for sudden acne. These products tend to have a short shelf life and are prone to harvesting bacteria, mold, fungus or yeast if they are not disposed in time. Even if the products are used before they expire, you might still be putting bacteria, mold fungus, or yeast on your face if not stored correctly. A basic guideline to know if a product needs preservatives is checking if it is aqueous. skincare
Products labeled "natural, 100% preservative-free" may be the culprit for sudden acne. These products tend to have a short shelf life and are prone to harvesting bacteria, mold, fungus or yeast if they are not disposed in time. Even if the products are used before they expire, you might still be putting bacteria, mold fungus, or yeast on your face if not stored correctly. A basic guideline to know if a product needs preservatives is checking if it is aqueous. skincare
Products labeled "natural, 100% preservative-free" may be the culprit for sudden acne. These products tend to have a short shelf life and are prone to harvesting bacteria, mold, fungus or yeast if they are not disposed in time. Even if the products are used before they expire, you might still be putting bacteria, mold fungus, or yeast on your face if not stored correctly. A basic guideline to know if a product needs preservatives is checking if it is aqueous. skincare
Products labeled "natural, 100% preservative-free" may be the culprit for sudden acne. These products tend to have a short shelf life and are prone to harvesting bacteria, mold, fungus or yeast if they are not disposed in time. Even if the products are used before they expire, you might still be putting bacteria, mold fungus, or yeast on your face if not stored correctly. A basic guideline to know if a product needs preservatives is checking if it is aqueous. skincare
Products labeled "natural, 100% preservative-free" may be the culprit for sudden acne. These products tend to have a short shelf life and are prone to harvesting bacteria, mold, fungus or yeast if they are not disposed in time. Even if the products are used before they expire, you might still be putting bacteria, mold fungus, or yeast on your face if not stored correctly. A basic guideline to know if a product needs preservatives is checking if it is aqueous. skincare
Products labeled "natural, 100% preservative-free" may be the culprit for sudden acne. These products tend to have a short shelf life and are prone to harvesting bacteria, mold, fungus or yeast if they are not disposed in time. Even if the products are used before they expire, you might still be putting bacteria, mold fungus, or yeast on your face if not stored correctly. A basic guideline to know if a product needs preservatives is checking if it is aqueous. skincare