It is time to go back to the good old days and get engulfed in a wave of nostalgia. Here are the 5 best teen movies from the '80s and '90s.
Ever feel like you are missing your teenage years? Well, not to worry! With this list of the best teen movies from the 80s and 90s, you'll start to feel like a teen all over again! Without these films, Hollywood wouldn't have made big stars out of Matthew Broderick, Molly Ringwald, etc. So when it's pouring like crazy outside and you don't have much to do, go give these a watch!
1. Ferris Bueller's Day Off (1986)
In this comedy, Ferris Bueller always comes up with excuses to avoid school, and everytime, he gets away with it. To his advantage, it becomes a prominent skill of his. With his graduation coming up, Buller aspires to make a big "blowout." He cuts school, steals a Ferrari, and grabs his best friend and girlfriend as they head to Chicago for the day. Meanwhile, Bueller's principal, Rooney, is sick of Bueller cutting school and getting away with it. That's when principal Rooney is fixed on catching him.

Streaming on: Amazon Prime
2. Dazed And Confused (1993)
Though this movie was shot in the early to mid-'90s, the movie itself took place in the mid-'70s. Dazed and Confused is about teenagers spending the last day of high school in 1976 in Austin, Texas. There's the graduating class having a big party and the incoming freshmen trying not to get hazed by the seniors. The constant adventures and thrill throughout the movie will keep you drawn in. Besides, who doesn't want to see a coming-of-age comedy that's so unique?
Streaming on: Amazon Prime
3. The Breakfast Club (1985)
A classic movie of the 80s, The Breakfast Club is a must-see. Five high school students, one Saturday detention. Will it change them? There's Claire, the pretty and popular girl. There's John, the rebel. There's Andrew, the jock. There's Brian, the nerd. And finally, there's Allison, the outcast. As the five get to know each other, everything they assumed they knew about each other changes majorly. But what changes them the most is that they wonder if school will ever be the same for them again.

Streaming on: Hulu, Starz, and Amazon Prime
4. Adventures In Babysitting (1987)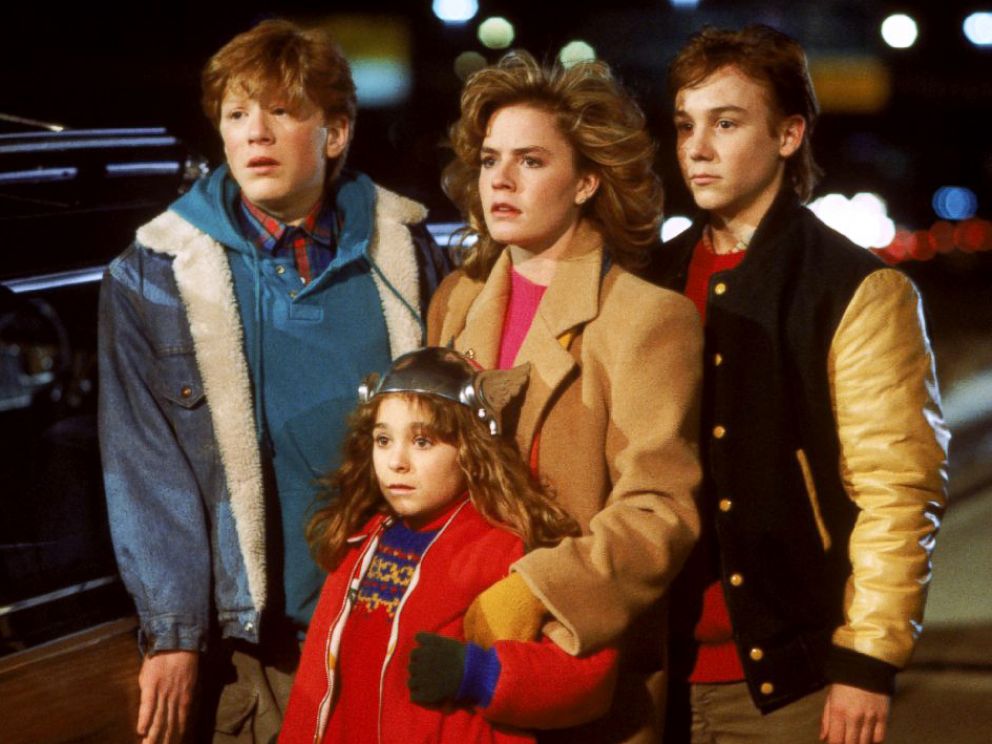 While there's Adventures In Babysitting that released in 2016 on Disney Channel, this is the OG one. In this comedy, Chris Parker babysits the Andersons' kids, Sara and Brad, as her boyfriend cancelled their plans for the night. But when Chris Parker gets a call from her friend Brenda that she needs to be picked up, a night of peace and quiet turns into a night full of utter chaos. That's when Brad's friend, Darryl, tags along. From a flat tire to blues musicians Chris, Sara, Brad, and Darryl must go to Chicago to pick up Brenda and make it home before the parents come back.

Streaming on: HBO Max, Hulu, and Amazon Prime
5. I Know What You Did Last Summer (1997)
In this horror/slasher film, the lives of four friends change forever. After accidentally running over a fisherman and dumping his body in the water, the four plan to never speak or look back on this again. A year later, one of the friends' receives a letter that their crime was seen, so the four reunite. Together, they try to figure out who's out for them.

Streaming on: Hulu and Amazon Prime
If you have the time to invest, check out 7 Best Shows For Teens From the '90s to '00s.
While there's Adventures In Babysitting that released in 2016 on Disney Channel, this is the OG one. In this comedy, Chris Parker babysits the Andersons' kids, Sara and Brad, as her boyfriend cancelled their plans for the night. But when Chris Parker gets a call from her friend Brenda that she needs to be picked up, a night of peace and quiet turns into a night full of utter chaos. That's when Brad's friend, Darryl, tags along. From a flat tire to blues musicians Chris, Sara, Brad, and Darryl must go to Chicago to pick up Brenda and make it home before the parents come back. movies
While there's Adventures In Babysitting that released in 2016 on Disney Channel, this is the OG one. In this comedy, Chris Parker babysits the Andersons' kids, Sara and Brad, as her boyfriend cancelled their plans for the night. But when Chris Parker gets a call from her friend Brenda that she needs to be picked up, a night of peace and quiet turns into a night full of utter chaos. That's when Brad's friend, Darryl, tags along. From a flat tire to blues musicians Chris, Sara, Brad, and Darryl must go to Chicago to pick up Brenda and make it home before the parents come back. movies
While there's Adventures In Babysitting that released in 2016 on Disney Channel, this is the OG one. In this comedy, Chris Parker babysits the Andersons' kids, Sara and Brad, as her boyfriend cancelled their plans for the night. But when Chris Parker gets a call from her friend Brenda that she needs to be picked up, a night of peace and quiet turns into a night full of utter chaos. That's when Brad's friend, Darryl, tags along. From a flat tire to blues musicians Chris, Sara, Brad, and Darryl must go to Chicago to pick up Brenda and make it home before the parents come back. movies
While there's Adventures In Babysitting that released in 2016 on Disney Channel, this is the OG one. In this comedy, Chris Parker babysits the Andersons' kids, Sara and Brad, as her boyfriend cancelled their plans for the night. But when Chris Parker gets a call from her friend Brenda that she needs to be picked up, a night of peace and quiet turns into a night full of utter chaos. That's when Brad's friend, Darryl, tags along. From a flat tire to blues musicians Chris, Sara, Brad, and Darryl must go to Chicago to pick up Brenda and make it home before the parents come back. movies
While there's Adventures In Babysitting that released in 2016 on Disney Channel, this is the OG one. In this comedy, Chris Parker babysits the Andersons' kids, Sara and Brad, as her boyfriend cancelled their plans for the night. But when Chris Parker gets a call from her friend Brenda that she needs to be picked up, a night of peace and quiet turns into a night full of utter chaos. That's when Brad's friend, Darryl, tags along. From a flat tire to blues musicians Chris, Sara, Brad, and Darryl must go to Chicago to pick up Brenda and make it home before the parents come back. movies
While there's Adventures In Babysitting that released in 2016 on Disney Channel, this is the OG one. In this comedy, Chris Parker babysits the Andersons' kids, Sara and Brad, as her boyfriend cancelled their plans for the night. But when Chris Parker gets a call from her friend Brenda that she needs to be picked up, a night of peace and quiet turns into a night full of utter chaos. That's when Brad's friend, Darryl, tags along. From a flat tire to blues musicians Chris, Sara, Brad, and Darryl must go to Chicago to pick up Brenda and make it home before the parents come back. movies
While there's Adventures In Babysitting that released in 2016 on Disney Channel, this is the OG one. In this comedy, Chris Parker babysits the Andersons' kids, Sara and Brad, as her boyfriend cancelled their plans for the night. But when Chris Parker gets a call from her friend Brenda that she needs to be picked up, a night of peace and quiet turns into a night full of utter chaos. That's when Brad's friend, Darryl, tags along. From a flat tire to blues musicians Chris, Sara, Brad, and Darryl must go to Chicago to pick up Brenda and make it home before the parents come back. movies
While there's Adventures In Babysitting that released in 2016 on Disney Channel, this is the OG one. In this comedy, Chris Parker babysits the Andersons' kids, Sara and Brad, as her boyfriend cancelled their plans for the night. But when Chris Parker gets a call from her friend Brenda that she needs to be picked up, a night of peace and quiet turns into a night full of utter chaos. That's when Brad's friend, Darryl, tags along. From a flat tire to blues musicians Chris, Sara, Brad, and Darryl must go to Chicago to pick up Brenda and make it home before the parents come back. movies
While there's Adventures In Babysitting that released in 2016 on Disney Channel, this is the OG one. In this comedy, Chris Parker babysits the Andersons' kids, Sara and Brad, as her boyfriend cancelled their plans for the night. But when Chris Parker gets a call from her friend Brenda that she needs to be picked up, a night of peace and quiet turns into a night full of utter chaos. That's when Brad's friend, Darryl, tags along. From a flat tire to blues musicians Chris, Sara, Brad, and Darryl must go to Chicago to pick up Brenda and make it home before the parents come back. movies
While there's Adventures In Babysitting that released in 2016 on Disney Channel, this is the OG one. In this comedy, Chris Parker babysits the Andersons' kids, Sara and Brad, as her boyfriend cancelled their plans for the night. But when Chris Parker gets a call from her friend Brenda that she needs to be picked up, a night of peace and quiet turns into a night full of utter chaos. That's when Brad's friend, Darryl, tags along. From a flat tire to blues musicians Chris, Sara, Brad, and Darryl must go to Chicago to pick up Brenda and make it home before the parents come back. movies
While there's Adventures In Babysitting that released in 2016 on Disney Channel, this is the OG one. In this comedy, Chris Parker babysits the Andersons' kids, Sara and Brad, as her boyfriend cancelled their plans for the night. But when Chris Parker gets a call from her friend Brenda that she needs to be picked up, a night of peace and quiet turns into a night full of utter chaos. That's when Brad's friend, Darryl, tags along. From a flat tire to blues musicians Chris, Sara, Brad, and Darryl must go to Chicago to pick up Brenda and make it home before the parents come back. movies
While there's Adventures In Babysitting that released in 2016 on Disney Channel, this is the OG one. In this comedy, Chris Parker babysits the Andersons' kids, Sara and Brad, as her boyfriend cancelled their plans for the night. But when Chris Parker gets a call from her friend Brenda that she needs to be picked up, a night of peace and quiet turns into a night full of utter chaos. That's when Brad's friend, Darryl, tags along. From a flat tire to blues musicians Chris, Sara, Brad, and Darryl must go to Chicago to pick up Brenda and make it home before the parents come back. movies
While there's Adventures In Babysitting that released in 2016 on Disney Channel, this is the OG one. In this comedy, Chris Parker babysits the Andersons' kids, Sara and Brad, as her boyfriend cancelled their plans for the night. But when Chris Parker gets a call from her friend Brenda that she needs to be picked up, a night of peace and quiet turns into a night full of utter chaos. That's when Brad's friend, Darryl, tags along. From a flat tire to blues musicians Chris, Sara, Brad, and Darryl must go to Chicago to pick up Brenda and make it home before the parents come back. movies
moviesmoviesmoviesmoviesmoviesmoviesmoviesWhile there's Adventures In Babysitting that released in 2016 on Disney Channel, this is the OG one. In this comedy, Chris Parker babysits the Andersons' kids, Sara and Brad, as her boyfriend cancelled their plans for the night. But when Chris Parker gets a call from her friend Brenda that she needs to be picked up, a night of peace and quiet turns into a night full of utter chaos. That's when Brad's friend, Darryl, tags along. From a flat tire to blues musicians Chris, Sara, Brad, and Darryl must go to Chicago to pick up Brenda and make it home before the parents come back. movies
While there's Adventures In Babysitting that released in 2016 on Disney Channel, this is the OG one. In this comedy, Chris Parker babysits the Andersons' kids, Sara and Brad, as her boyfriend cancelled their plans for the night. But when Chris Parker gets a call from her friend Brenda that she needs to be picked up, a night of peace and quiet turns into a night full of utter chaos. That's when Brad's friend, Darryl, tags along. From a flat tire to blues musicians Chris, Sara, Brad, and Darryl must go to Chicago to pick up Brenda and make it home before the parents come back. movies
While there's Adventures In Babysitting that released in 2016 on Disney Channel, this is the OG one. In this comedy, Chris Parker babysits the Andersons' kids, Sara and Brad, as her boyfriend cancelled their plans for the night. But when Chris Parker gets a call from her friend Brenda that she needs to be picked up, a night of peace and quiet turns into a night full of utter chaos. That's when Brad's friend, Darryl, tags along. From a flat tire to blues musicians Chris, Sara, Brad, and Darryl must go to Chicago to pick up Brenda and make it home before the parents come back. movies
While there's Adventures In Babysitting that released in 2016 on Disney Channel, this is the OG one. In this comedy, Chris Parker babysits the Andersons' kids, Sara and Brad, as her boyfriend cancelled their plans for the night. But when Chris Parker gets a call from her friend Brenda that she needs to be picked up, a night of peace and quiet turns into a night full of utter chaos. That's when Brad's friend, Darryl, tags along. From a flat tire to blues musicians Chris, Sara, Brad, and Darryl must go to Chicago to pick up Brenda and make it home before the parents come back. movies
While there's Adventures In Babysitting that released in 2016 on Disney Channel, this is the OG one. In this comedy, Chris Parker babysits the Andersons' kids, Sara and Brad, as her boyfriend cancelled their plans for the night. But when Chris Parker gets a call from her friend Brenda that she needs to be picked up, a night of peace and quiet turns into a night full of utter chaos. That's when Brad's friend, Darryl, tags along. From a flat tire to blues musicians Chris, Sara, Brad, and Darryl must go to Chicago to pick up Brenda and make it home before the parents come back. movies
While there's Adventures In Babysitting that released in 2016 on Disney Channel, this is the OG one. In this comedy, Chris Parker babysits the Andersons' kids, Sara and Brad, as her boyfriend cancelled their plans for the night. But when Chris Parker gets a call from her friend Brenda that she needs to be picked up, a night of peace and quiet turns into a night full of utter chaos. That's when Brad's friend, Darryl, tags along. From a flat tire to blues musicians Chris, Sara, Brad, and Darryl must go to Chicago to pick up Brenda and make it home before the parents come back. movies